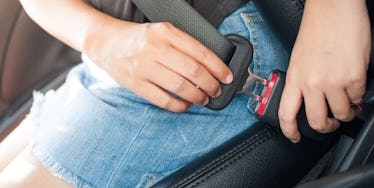 This Couple Reportedly Let A 9-Year-Old Drive Because They Got Too Drunk
Getty Images
A Wisconsin couple allegedly let a 9-year-old drive them home because they were too drunk.
According to CBS Minnesota, sheriff's deputies in Polk County, Wisconsin received numerous calls about a truck swerving on a road on January 31.
Responding deputies found a pickup truck rolling backward toward a river that was frozen over.
A deputy then jumped into the car and put it in park.
Jason Roth, 36, and Amanda Eggert, 32, were sitting up front, but Eggert's 9-year-old daughter was apparently behind the wheel.
The little girl's 11-month-old sibling was also strapped in a car seat in the back, according to police.
The daughter reportedly drove for a number of miles and went straight into oncoming traffic several times, miraculously avoiding serious harm, New York Daily News reports.
Roth's blood alcohol content was allegedly discovered to be over three times the legal limit while Eggert's was well over twice the legal limit.
The deputy said they allowed the girl to drive because they were both highly intoxicated, but the couple gave authorities another reason: They claimed they were simply giving the 9-year-old a driving lesson.
Eggert reportedly said,
[Children] used to in the 1950s.
The couple since pleaded not guilty to multiple felonies such as child neglect and second-degree recklessly endangering safety.
According to Huffington Post, Eggert faces additional charges due to the hostile behavior she exhibited when paramedics tried to treat a cut on her hand.
A spokesperson for the sheriff's department said Eggert cursed at the paramedics while throwing punches and kicks.
Citations: Couple Allegedly Allowed 9YearOld To Drive Home Because They Were Too Drunk (Huffington Post), Wis Police 9YearOld Drives Intoxicated Parents HomeCouple Charged (CBS Minnesota), Wisconsin couple charged after allowing 9yearold daughter to drive them home because they were too drunk (New York Daily News)