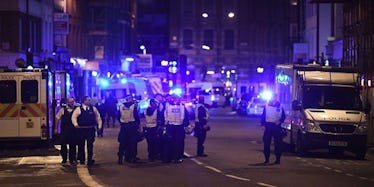 Donald Trump Tweets The Most Absurd Thing In Wake Of London Attacks
Carl Court/Getty Images
On Saturday night, at around 10 p.m. (5 p.m. ET), London police responded to reports of a white van plowing into several pedestrians on the London Bridge. Police say more than one person has died from the attack, according to BBC.
UPDATE: BBC reports have updated the number of victims. Seven people were killed during Saturday's attack; 48 people were hospitalized for injuries.
EARLIER: Very shortly thereafter, London police also responded to an incident at London's Borough Market, which is a short distance from London Bridge.
Police confirmed stabbings had occurred at Borough Market and shots had been fired. A witness told CNN a man had stabbed market patrons with a "massive knife."
However, in the wake of these horrific, senseless attacks, U.S. President Donald Trump has deemed it the perfect time to tweet about his "Travel Ban."
Shortly after news of the attacks broke, Trump tweeted the following:
The tweet read,
We need to be smart, vigilant and tough. We need the courts to give us back our rights. We need the Travel Ban as an extra level of safety!
Directly after this initial tweet, however, Trump also tweeted about the U.S. fully supporting the UK in whatever it may need:
The second tweet read,
Whatever the United States can do to help out in London and the U. K., we will be there - WE ARE WITH YOU. GOD BLESS!
Though Metropolitan Police have confirmed that both the attacks on the London Bridge and the stabbings at Borough Market are believed to be "terrorist incidents" (and though Trump didn't specifically connect the London attacks to his first tweet), the mention of his Travel Ban so soon after only serves to heighten the presence of Islamophobia.
In January 2017, Trump signed an executive order enacting his "Travel Ban" — an order that essentially kept citizens from Iraq, Syria, Iran, Libya, Somalia, Sudan, and Yemen, as well as foreign refugees, from entering the United States for 90 days.
Soon after the executive order was signed, federal courts blocked the Travel Ban, and just last week, a federal appeals court rejected Trump's revised Travel Ban, according to the New York Times.
Trump's Travel Ban, as well as his initial tweet in the wake of the most recent London attacks, only furthers the public's association of terrorism with all citizens Middle Eastern countries, which couldn't be more inaccurate.
Even more, the president's tweet incites an incredible amount of unnecessary fear and hate during an already devastating time.
Cecillia Wang, deputy legal director of the American Civil Liberties Union, tweeted in response to Trump's Travel Ban tweet:
The tweet read,
We need to be outraged when the president exploits a terrible violent crime to push his discriminatory and illegal policy.
Alison Grimes, Kentucky secretary of state, also tweeted, "Our Commander in Chief should be directing support to a vital US ally, not using horrendous attack to stoke fear & hate. #London."
Other Twitter users expressed their disdain for Trump's initial tweet as well, citing the president using the London attacks to promote his own political agenda:
In the wake of an already fearful, senseless, and incredibly sad series of attacks, the last thing on anyone's mind should be inciting even more fear and hate.
Our thoughts are with the victims of these horrific attacks, as well as their loved ones.