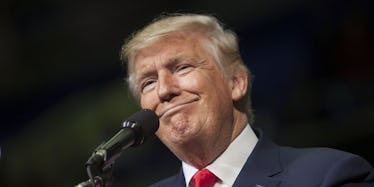 Donald Trump Used To Go To The VMAs Every Year And The Pics Have Us Shook
Jessica Kourkounis/Getty Images
When you think of this Sunday's VMAs, you're probably not thinking of the face of the 45th president of these United States, Donald Trump. But if you had been thinking of the one 15 years ago, you might be. The current president was a regular fixture at the MTV Video Music Awards back in the early aughts — and now, the photos of Donald Trump at the VMAs are just really weird to look at.
Trump attended on several occasions in those halcyon days of pop music, when Britney and Justin were still together and it was still considered scandalous for two women to kiss publicly. Lo, it was another time.
And in that time — when our current president was more known for his tacky hotels and ridiculous movie cameos than picking fights with North Korea — he appeared on the VMAs red carpet. Not once — not even twice — but at least three times.
Donald Trump showed up with then-girlfriend and current First Lady Melania Knauss in 2000, 2002, and 2003, and oh yes, there are indeed pics to prove it. The pair are in full, glorious early-aughts fashion to boot, complete with sparkly dresses, over-bangled earrings, and Trump himself is even sporting a shiny tie in one photo.
Do you remember when Trump was just another B-list celebrity hanging around the red carpet?
Check out that tiger-striped dress, the skinny spaghetti straps, the wide-eyed terror in Melania's eyes as she faces down the camera.
In September of 2000, when this photo was taken, Melania had been dating Trump for just about two years (including two breaks of several months). Funnily enough, Trump's divorce from second wife Marla Maples had only been finalized in June of the previous year.
2002 - Playing second fiddle to Jennifer Lopez
The epic 2002-ness of these outfits is killing me. Between J.Lo's curls and all that fringe (not to mention cleavage) on her jacket, and Melania's hair actually hanging naturally instead of being curled back in waves, it's just too much. You can practically hear the chorus of "If You Had My Love," or "Jenny From The Block" as you look at it.
Donald Trump looks a little too interested in Jenny's block for my comfort, though. Melania is right there, man.
2003 — Shiny ties and sparkles
Remember how in 2003 all the going-out clothes were pastel silks, there were rhinestones on everything, and we all wore giant dangly earrings? It's an era that in retrospect, seems custom-made for Trump and his predilection for gold and sparkly everything. In this image from 2003, Trump's even matched his tie to Melania's dress.
Poor Melania, though, didn't have quite the cultural cachet that she has today as first lady. The caption for the photo reads "Entrepreneur Donald Trump (L) and guest."
BONUS ROUND — young Ivanka, circa 1995.
Trump took a 14-year-old Ivanka to the event back in 1995, a few years after he split from her mother Ivana. Which would be super sweet — daddy and daughter bonding time — if not for the weird glare he's giving the camera.
For better or worse, Trump won't be on the red carpet at this Sunday's VMAs. (At least, we don't think so.)
He's spending the weekend at Camp David, where he's spent time tweeting about pardoning Sheriff Joe Arpaio and keeping an eye on Hurricane Harvey.
Who knows, though? Trump is definitely known for being unpredictable. Maybe he'll skip that possible visit to Texas and hit up the VMAs instead.