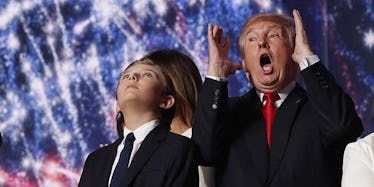 It Turns Out The RNC Made A Lot Of People Want To Have Sex With Donald Trump
REUTERS
It was clear on Thursday night Cleveland, or at the very least the people in Quicken Loans Arena, were loving Donald Trump, perhaps even more so than you might think.
According to Pornhub's "insights," there was a massive increase in searches for 'Trump-related' porn during the Republican National Convention, with there being a 648 percent spike in it in Cleveland during the RNC.
Incidentally, there was a huge spike in Muslim- and Arab-related searches in Cleveland during the convention, with an over 200 percent increase. Here are the numbers Pornhub's research discovered.
Those increases, however, are nothing compared to the significant uptick in interest for Melania Trump. After the First Lady hopeful's controversial speech on Monday night, searches for her increased by nearly 1,500 percent.
For Melania, though, there's an easy argument to make to explain the, let's say, "increased interest" surrounding her with regards to these numbers. Melania is a model, and because she spoke at the RNC, she's now perhaps the most famous model in America.
The most famous models tend to prompt fantasies, it's safe to say. But, Donald Trump? Yeah, that's, uh, weird.
Citations: Complex