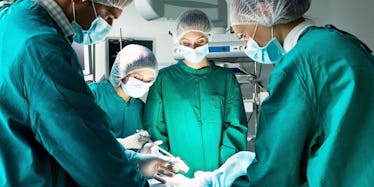 Doctors Were Able To Grow An Entirely New Nose For This Boy On His Forehead
Shutterstock
Doctors and surgeons can do incredible things.
When you think of plastic surgery, you think of it in terms of cosmetic adjustments: breast augmentations, facelifts, tummy tucks or rhinoplasties.
But, some plastic surgery is performed for very different and more urgent purposes. For one boy from India, doctors were able to give him a brand new nose that they grew on his forehead when rhinoplasty wasn't possible.
Twelve-year-old Arun Patel lost his nose after he suffered from pneumonia as a baby. The injections that were administered by inexperienced village doctors to cure the illness caused the tissue on his nose to die and shrivel.
Since the cartilage on his nose was so damaged, later on, doctors couldn't repair it like a regular broken nose. Luckily, these amazing surgeons were able to give Arun the gift of a new nose, which they grew right on his forehead.
This plastic surgery is very rare and had several stages over the course of one year. The doctors had to expand his forehead to make room for the new nose to grow. They also had to take cartilage from Arun's chest to construct the nose.
In three months, the new nose grew on Arun's forehead, and then it was removed and implanted. Finally, he had to have his forehead repaired. Thankfully, the whole process was a success.
It's truly amazing to me how doctors can use our bodies like this. I couldn't imagine what Arun had to go through his whole life basically without a nose, and I'm sure his life will be so much better with all of his organs functioning properly.
Citations: Indian doctors grow new nose on boy's forehead (BBC)