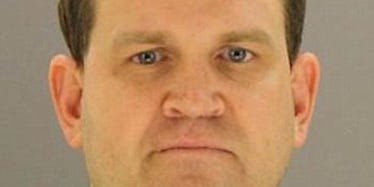 Doctor Jailed After He Ignores Man Waking Up Mid-Surgery 'Screaming In Pain'
Police
A former North Texas neurosurgeon has been sentenced to life in prison after a string of botched surgeries that killed two patients and maimed several others.
Christopher Duntsch was convicted by the Dallas County jury of first-degree felony injury to an elderly person.
Prosecutors brought multiple cases of malpractice against the former physician, including he improperly placed screws and plates along patients' spines, left a sponge in another patient and cut a major vein in another.
Duntsch was the first doctor in Dallas County to be convicted for a surgery gone wrong said District Attorney Faith Johnson during a news conference after the sentencing Monday, February 20.
Johnson said,
We have done something historic here.
One of Duntsch's victims is Jerry Summers, who knew the former doctor since childhood. According to the Dallas Morning News, Summers woke up unable to move his arms or legs after undergoing spinal surgery at Baylor Regional Medical Center of Plano.
Today, he still can't move most of his body.
Summers describes the post-surgery feeling in chilling detail:
It just feels like your body weighs about 10,000 pounds and you can't pick it up.
The surgery took place in February 2012 after Summers was injured in a car crash and sought help from his childhood friend, who offered to perform the basic procedure to rid him of pain and numbness he had in his arm.
However, the procedure did not go according to plan, as the anesthesiologist who put Summers under revealed that he lost over 10 times more blood than what is considered normal for this type of surgery.
Later that same year, Duntsch operated on 54-year-old Garland schoolteacher, Kellie Martin, who bled out and died after the doctor cut through her spinal cord and slashed a major artery, prosecutors allege.
Surgical nurse Catherine Kelly-Lorenz, who was involved in Martin's deadly surgery, said Duntsch didn't appear to be concerned with the outcome of the procedure, despite the fact Martin was apparently "screaming in pain" when she first woke up, after which she had to be put back under anesthesia.
Another of Duntsch's patients, 63-year-old Floella Brown, died in July 2012 after she suffered a stroke following spinal surgery at Dallas Medical Center.
Duntsch's attorneys argue he is not a criminal, rather, just a "lousy surgeon."
However, an affidavit revealed that, in an email from December 2011, Duntsch had expressed a desire to inflict pain upon his patients:
I am ready to leave the love and kindness and goodness and patience that I mix with everything else that I am and become a cold-blooded killer.
While the pain these victims have suffered at the hands of Duntsch will never go away, District Attorney Johnson said,
We hope they will just have a little joy to know that the person that did this thing to them will be serving a life sentence
Citations: Incompetent surgeon who killed two patients in botched ops, had a patient WAKE UP during surgery and paralyzed others is jailed for life (DailyMail.com), Doctor on trial in Dallas performed surgery on friend that left man a quadriplegic (Dallas Morning News)