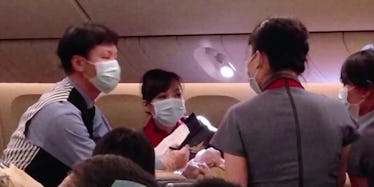 Amazing Doctor Ends Up Helping Woman Deliver Baby During 19-Hour Flight (Video)
A Taiwanese woman unexpectedly went into labor in the middle of a flight and had her baby on the plane.
According to ABC News, the unnamed woman was nearly 32 weeks pregnant when she boarded a 19-hour China Airlines flight from Taiwan to Los Angeles last Thursday.
Her water broke six hours into the flight as the plane cruised 30,000 feet above the Pacific Ocean.
Crew members asked if there was a doctor on board and were relieved to find one among the passengers. They found UCLA resident physician Dr. Angelica Zen, who was even able to speak Mandarin to the woman.
Dr. Zen and her husband were flying home from their honeymoon in Bali, ABC 7 reports. Many passengers were asleep at the time, only to awaken when cabin lights were turned on to assist the physician.
Dr. Zen said this was her first time delivering a baby on her own, so she was "a little bit nervous" during the birth.
Passenger Amira Rajput, who reportedly posted a video of the birth, said the mother bit down on blankets while in labor so passengers wouldn't hear her screams.
Rajput told ABC News,
The woman is tough as nails. People were super quiet and calm so that this woman could have a stress-free experience.
Cheers erupted after the baby girl, who Dr. Zen said "looked very healthy," was safe in the arms of a flight attendant.
The pilot then requested to make an emergency landing at the nearest airport, which was three hours away in Anchorage, Alaska.
Rajput said once the plane landed, a border patrol agent came on board to make sure the woman didn't deliberately give birth overseas to grant her baby American citizenship.
The woman and her baby were then taken to a local hospital and were last reported to be in good condition. According to New York Daily News, China Airlines staff said pregnant women are only not allowed to fly if they reach the 32nd weeks of their pregnancies.
After refueling in Anchorage, the plane resumed its flight and arrived in Los Angeles three hours late.
The birth took place in US airspace but on a plane owned by the Republic of China, so it's not clear if the baby girl will be a citizen of China or the US.
Citations: UCLA DOCTOR DELIVERS BABY ON PLANE AFTER WOMAN GOES INTO EARLY LABOR (ABC 7), How a Crew Reacted When a Woman Gave Birth on a Trans-Pacific China Airlines Flight (ABC News), Remarkable moment women gives birth at 30,000 feet caught on camera (New York Daily News)