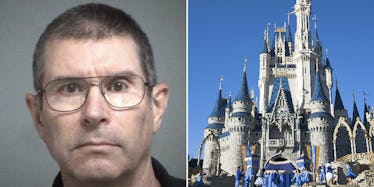 Disney Worker Caught Molesting Infant After Porn Titled 'Baby B' Found On PC
Lake County Sheriff's Office/REX/Shutterstock
A Disney World worker has admitted to molesting three babies and photographing himself touching one of his victims.
Police were acting on a tip that Richard Alton Morgan was sharing child porn online from his home in Mascotte, Florida.
The 57-year-old, who worked as a stage tech, told deputies from the Lake County Sheriff's Office he had been downloading child porn for a "few years," The Orlando Sentinel reported.
He guided investigators to his computer, telling them they would find their answers there.
During a search of Morgan's computer, officials found a folder named "Baby B" that contained photos of him molesting a baby girl.
He admitted to touching her, as well as two other infants aged between 10 and 15 months.
Police tracked down the child in the "Baby B" folder to California, where her mother was arrested on child molestation charges.
Lt. John Herrell, a spokesman for the sheriff's office, said,
Detectives learned that this child, whom he admitted to molesting, is now in California. Late last night (Monday), California authorities located the child and arrested her mother on molestation charges also. It is believed that the mother and Morgan met online.
Investigators added the bedding in Morgan's room matched a set pictured in the images of him molesting the girl — and Morgan admitted the offense happened in his home.
Disney has placed him on unpaid leave pending the outcome of the charges. It is unclear if his job involved contact with children.
Police are attempting to find the other children Morgan admitted to molesting, and are reportedly concerned there are more victims.
His next-door neighbor Joan Allman told ClickOrlando he had a "fascination" with babies.
Morgan is charged with three counts of sexual battery, 20 counts of possession of child pornography, 287 counts of production of child pornography and 56 counts of lewd or lascivious molestation.
He is being held at Lake County Jail without bond.
Citations: Mascotte man accused of touching infant, possessing child porn (Orlando Sentinel), Disney employee accused of sexual battery on infant, deputies say (ClickOrlando)