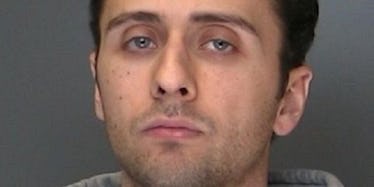 Crazy Boyfriend Brutally Murders Man Because He Gave His Girlfriend Herpes
Suffolk County Police Department
After being charged with second-degree murder in a six-year-old Long Island murder case, Daniel Greenspan has officially been convicted of the heinous crime by a jury.
The 30-year-old killed an innocent Brooklyn man after his girlfriend, 28-year-old Noriella Santos (the victim's ex) told him she had contracted the herpes virus after having sex with the victim.
The victim was 32-year-old Michael Sinclair, whom Greenspan approached in West Babylon, Long Island, before firing off several shots and killing him.
According to Suffolk County Police, Sinclair was rushed to Good Samaritan Hospital but passed away early that morning.
Lawyers stated that Greenspan used his girlfriend to plot against Sinclair and lure him to a secluded place where he could kill him.
Then, Greenspan shot Sinclair once in his chest and three more times in his head.
Greenspan's defense attorney attempted to convince the jury that Santos was actually the root of the problem and the cause of the murder, and her lies were what led to the entire incident taking place.
In fact, he claimed there was no actual evidence that placed Greenspan in West Babylon at the time of the murder.
Clearly, however, the jury didn't believe that to be true, as they found him guilty of the murder on Thursday, March 23.
Greenspan's sentencing is set for April 27, 2017, and he could face a possible 25 years to life in prison.
First off, Greenspan is at fault for acting in such a horrific manner, despite having no confirmation that Santos was telling the truth.
She easily could've caught the virus from someone else and used this as a way to pin it on Sinclair.
Second, though the herpes virus has a pretty awful reputation, it's not an STD people should be this afraid of. If contracted, it's easy to manage, and the vast majority of those with the virus don't display many symptoms.
Regardless, time behind bars is well deserved for Greenspan.
Citations: NYC Man Convicted in Long Island Herpes Revenge Killing (NBC 4 New York), Suffolk County Jury Convicts Manhattan Man of Revenge Homicide (LongIsland.com)