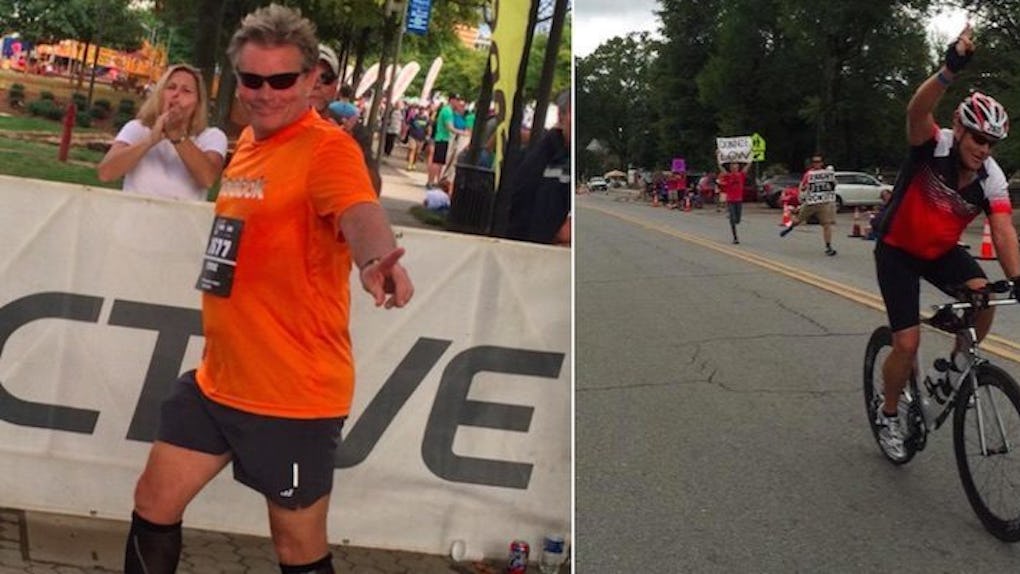 Twitter
Dad Honors Late Son By Completing Triathlon They Trained To Do Together
A Tennessee father honored his son by completing a triathlon just days after the young man's death.
According to The Washington Post, 28-year-old professional runner Cameron Bean went for a run on September 19 to train for the IRONMAN Chattanooga, a triathlon he planned to conquer with his father, 58-year-old Steve Bean.
A driver, who said she was blinded by the sun, hit Cameron head on during his workout. Cameron suffered a broken arm, leg, shoulder and neck, in addition to a critical brain injury.
Two days later, the brain injury claimed Cameron Bean's life.
But not long after Cameron Bean's death, a professional triathlete called Steve Bean to tell him he readied equipment to continue training.
Steve Bean believed the triathlete "was sent here by Cameron," who he said "would probably want me to put my shoes on and go for a run" on the day of the triathlon.
So on September 25, Bean got up at 3 am and set out for the 2.4-mile swim, 116-mile bike ride and 26.2-mile run.
Friends and relatives showed their support.
They held signs to remind Steve who carried him along the way.
A family friend updated Steve's progress.
Steve was able to maintain a great attitude...
...before finishing in glorious fashion.
It took Steve Bean about 15 hours to finish the race, which he said was full of tears and conversations with his son.
Cameron Bean attended college on a cross country scholarship and went on to become one of the best runners in the US. He ran with a professional team called ZAP Fitness and took just over eight minutes to get through a 3,000-meter steeplechase.
Cameron's mother, Lisa Bean, told The Washington Post,
Our hearts are broken, but we're starting a new normal. We're going to do the best we can do. That's what he would have wanted us to do, so we're doing it as a tribute to him.
The car accident that killed Cameron Bean remains under investigation.
Citations: Days after son's death, athlete's father finishes triathlon in his memory (The Washington Post)