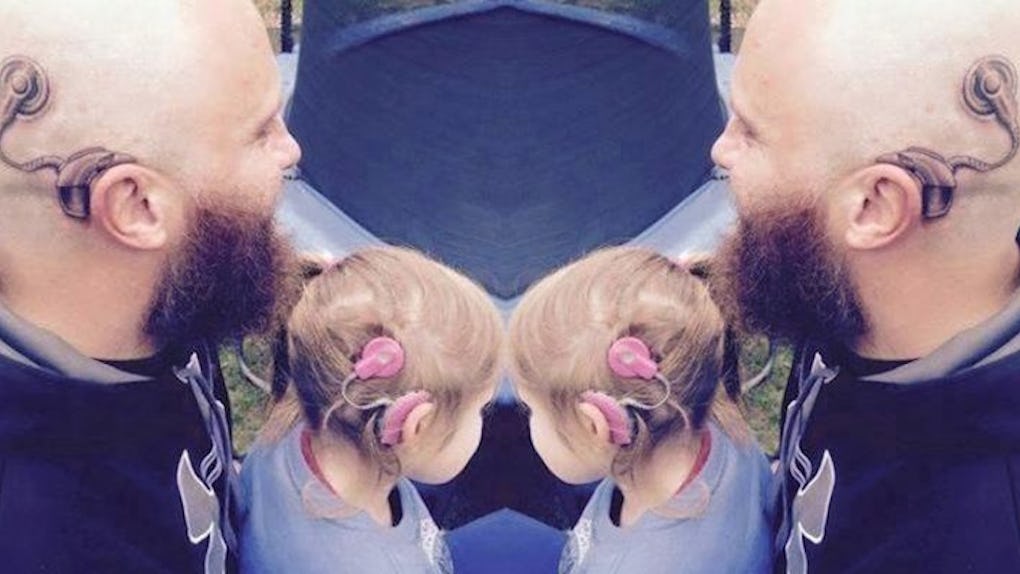 Facebook
Best Dad Ever Gets Tattoo To Match His Young Daughter's Hearing Aid
A New Zealand father got a tattoo of his daughter's cochlear implant so she wouldn't feel like an outsider.
According to Huffington Post, 6-year-old Charlotte Campbell is deaf in her left ear and has a condition that inhibits her right from transmitting sound to her brain.
When she was 4 years old, she got her first cochlear implant, a hearing aid that sends sound signals to the brain, and she recently had another one put in.
Her father, Alistair, didn't want his daughter to see herself as strange compared to the other kids because of her appearance.
So, he recently shaved his head and got a tattoo of the device on the left side of his head.
He told the New Zealand Herald,
[I did it for] my love for her, really. Hey, my hair can grow back.
Alistair, who has no other tattoos, said he would be growing his hair back but would gladly shave it all off again should Charlotte want to see the tattoo.
He said his daughter broke out in laughter when she first saw her dad's gesture of support.
She then felt it on his head and deemed the design "cool."
Alistair is at least the second father to get a cochlear implant tattoo to match his daughter's hearing aid.
The identity of the first father, whose tattoo was reported last March, remains unknown.
Citations: Dad Gets Cochlear Implant Tattooed On Side Of Head So Deaf Daughter Doesnt Feel Like The Odd One Out (Huffington Post)