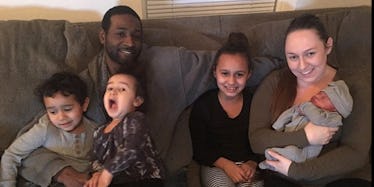 Dad's Tragic Story Of Being Fired After Missing Work For Son's Birth Goes Viral
GoFundMe
Sometimes, we're all guilty of forgetting about the sacrifices our families have made for us over the years.
Whether it's your mom working two jobs so she could pay the bills or your dad giving you lifts to practice, your family has given up so much to help you out.
Dad of four, Lamar Austin, knows all about the sacrifices parents have to make.
Lamar was determined to stay by his wife Lindsay's side for the birth of their son on New Year's Day... even though he knew doing so would cost him his job.
Hours before little Cainan came into the world – he was the first baby born at Concord Hospital in New Hampshire in 2017 – the military vet received a text from his new boss at Salerno Protective Services. The text let him know he had been fired from his position as a security guard, the Concord Monitor reports.
Now, there's no denying this situation absolutely sucks. But since his story has gone viral, life has changed completely for the Austin family.
Not only has a complete stranger set up a GoFundMe page that has raised more than $8,000 and counting, but Lamar's inbox has also been flooded with job offers from people who want to help the proud dad out.
Speaking about the night he chose his family over everything else, he told the Huffington Post,
I thought, 'I'm just going to do what I feel is right for my family,' and that's it.
If that's not a good dad, I don't know what it is.
When Lindsay, 26, went into labor, Lamar told his boss he couldn't go to work. It was the first time in his 90-day trial period that he had missed a shift.
But when the labor stretched on to a second day, Lamar's boss sent him an ultimatum: Miss your son's birth, or get fired.
At 1 am on New Year's Day, he got a text reading, "As of now, you are terminated."
Lamar said,
I looked at it and I was like, 'Wow. OK, cool.' And that was about it for me.
There's not much he can do about it, either. New Hampshire is an "at-will employment state," which means workers can be fired at any time, for any reason.
Lamar added,
Maybe I just wasn't working there long enough for them to want to keep me.
Maybe not. But he's certainly a man in demand now.
And I can guarantee Cainan will be super proud of his dad when he finds out about this story.
Citations: GoFundMe, Concord Monitor, Huffington Post