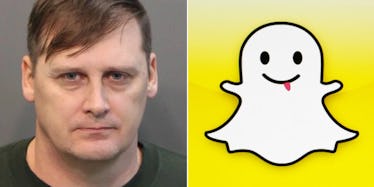 Dad Admits To Choking 14-Year-Old Daughter For Posting Nude Pics On Snapchat
Police/ Shutterstock
Christian Amason, a 45-year-old Tennessee man, was arrested on Sunday for choking his daughter after finding out she had posted nude photos of herself on Snapchat.
Apparently, the 14-year-old filed a police report after Amason used both hands to grab her by the throat so tightly, she could no longer breathe, NY Post reports.
He was then taken into custody by the Hamilton County Sheriff's Office in Tennessee.
Why did he do it, though?
According to an arrest report obtained by the Post, Amason's daughter didn't allow her mom to spank her as a punishment for the racy pictures. So, Amason took matters into his own hands... literally.
The report said his daughter and her mother were in their Harrison home together when the subject of her explicit Snapchat photos came up.
It's been reported her mother attempted to "spank" their daughter for the photos she posted, but the 14-year-old resisted.
To escape her family drama, she walked into her bedroom. But her angry parents followed her.
Then, Amason choked his daughter because he was angry she "refused to allow" her mother's spanking.
Six hours later, the unnamed daughter sought refuge by calling her sister. She asked her sister to pick her up from their home.
She then took matters into her own hands and filed a police report. Her father later admitted to the abuse.
According to the arrest report, both parents became angry when they discovered their little girl was posting naked pictures of herself on Snapchat.
During interviews with deputies, both the mother and father admitted to spanking their daughter. The father also admitted to choking and hitting her in a fit of rage.
Oh, did I mention her dad is 285 pounds? Because he is.
Amason was charged with child abuse and neglect. His bail has been set at $2,000, but the investigation is not over yet.