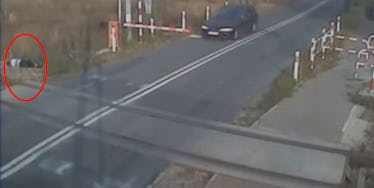 26-Year-Old Cyclist Crashes Into High-Speed Train And Amazingly Survives (Video)
A cyclist survived a collision with a high-speed train after being violently thrown off his bike.
According to Yahoo! News, the 26-year-old male cyclist ran a red light and went under a barrier guarding train tracks that pass through a street near Opole, Poland on November 5.
Video footage shows a locomotive, reportedly capable of speeds up to 180 mph, pass by right at the moment his front wheel touches the track.
The video's captioning says the cyclist was launched 12 feet from the spot of the initial impact, but he apparently sustained only minor injuries.
He was reportedly fined 90 euros (about $99) for ignoring the red light.
The railway company released the video on Wednesday as a warning to be extra attentive when approaching train tracks.
In a statement, the railway company's spokesman Miroslaw Siemieniec reportedly said,
It's important for all road users, not matter what their means of transport, to take special care at level crossings.
The crash allegedly delayed the train 40 minutes and broke several bars on its radiator grill.
Citations: Polish cyclist shockingly smashes into highspeed train and survives (Yahoo! News)