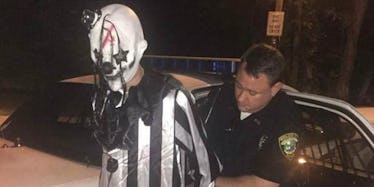 A Creepy Clown Caught Lurking In The Woods At Night Was Arrested In Kentucky
Facebook
What the hell is wrong with people?
It's one thing to be a spooky clown for Halloween, but an ENTIRELY different thing to be found lurking in the woods sporting your best creepy clown getup with over a month to go before October 31.
Police arrested 20-year-old Jonathan Martin for "causing alarm" after he was seen crouching in the woods wearing a clown suit and mask somewhere in Middlesboro, Kentucky.
The creepy clown was charged with disorderly conduct and wearing a mask in a public place, according to Mashable.
Stephen King would be proud...
While it's not against the law to dress up as a clown, Martin also reportedly tried "running towards a vehicle at Cumberland Village [apartments]," according to police.
In a police report regarding the arrest, an officer detailed,
Upon my stopping when I saw the clown, he started running towards a vehicle at Cumberland Village.
Martin was taken into custody by law enforcement on the morning of September 23 at around 1 am. What anyone is doing outside wearing a clown suit in the woods at 1 am is beyond me! What a sketch ball.
Shortly after his arrest, Jonathan Martin was unmasked for his mugshot. What clown?!
What was this dude thinking?!
The news comes just a month after several residents in neighborhoods around the US reported that they had seen clowns standing on the side of the road at all times of the day and night attempting to lure kids into the woods.
Interestingly enough, just a 30-minute drive from Middlesboro, the police department in the town of Barbourville posted a Facebook post urging people not to dress up as clowns (because apparently, that's a thing).
The post reads,
Ladies and gentlemen, please take note of the following as we have had several 'clown complaints.' With the current mainstream media and social media coverage of clown sightings, clown pranks have created a real concern and risk. Dressing as a clown and driving, walking or standing in public can create a dangerous situation for you and others. This creates a risk of harm to you, of collisions near roadways and to bystanders and children who become frightened.
Damn, it really is a thing! You can read the full Facebook post here.
Could you imagine driving home from a long day at work one night just to peer over at a creepy clown standing tall near the side of the road as it stares you down? Yeah, no thanks.
The only time I'd be slightly OK with seeing a clown outside is if it were Halloween. Other than that, what purpose are you really serving aside from scaring the sh*t out of people?! Weirdos.
Citations: Terrifying clown caught by cops, charged with disorderly conduct (Mashable)