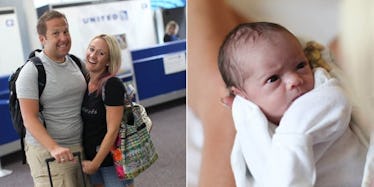 Couple Met Their Adopted Baby For The First Time, And It'll Make You Sob (Photos)
Many people wish to be parents one day.
But unfortunately, biology doesn't always make that easy, and struggling to get pregnant can be incredibly disparaging for hopeful parents.
That was certainly the case for parents David and Sarah Olson.
The couple has two children, one of whom was born with spina bifida, and they spent months trying for a third -- only to be disappointed time and time again.
Sarah began to think about adoption, and the more she thought about it, the more she decided it was the right decision.
Last week, the couple made a trip to Tallahassee, Florida to meet their new adoptive daughter, Tilly Pearl Olson.
The meeting was captured on camera, and you can see the beautiful photos below.
Be warned: The photos are serious tearjerkers.
Tilly's adoption is referred to as a "stork drop" because it came at a moment's notice.
The couple flew out to Tallahassee, and they were united with their daughter that same day.
The parents thought about adopting for some time.
David said, "The more that we prayed and the more that we sat on it... the more that idea of adoption to complete our family really blossomed in us."
He added, "It felt like that was the way that God wanted us to complete our family."
The couple credits Bob Goff's book "Love Does: Discover a Secretly Incredible Life in an Ordinary World" with helping them make the decision to adopt.
They arranged to pick up Tilly just after her birth...
...and now, the family was made brighter, thanks to this beautiful baby girl.
A YouCaring account was set up in the family's name...
...and you can donate to the account here.
Check out the video below to hear the Olsons tell their story in their own words.
Congratulations!
Citations: Heartwarming Moment When Couple Sees Their Adoptive Baby For First Time (Bored Panda)