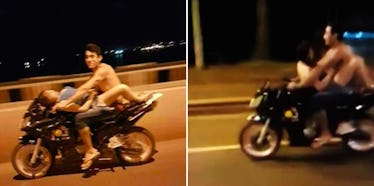 Couple Caught Having Sex On Speeding Motorcycle While Driving Down Busy Highway
Facebook
Shocking video footage appears to show a young couple having sex on a motorbike as it speeds along a highway in Paraguay.
Another motorist spotted the horny couple and managed to film the highly dangerous and completely illegal act as they overtook the man and woman.
Remind you of anyone?
Police are reportedly investigating the footage, which was filmed in Encarnacion, Paraguay's third largest city.
I have no idea what these people were thinking. There's spicing up your sex life and making things a little more adventurous, but this is on another level entirely.
The man, who is shirtless, is riding the motorbike while the woman lies back on the petrol tank with her legs wrapped around him.
A separate photograph posted on Facebook also claims to show the couple — with the man looking to his left, directly at the person taking the pic.
It was posted by Leo Florentin, who described the pair as "kamikaze apes" in an unreal smackdown.
He wrote,
This is already a situation of national emergency, it's now or never because otherwise we will have a generation of young mutilated, dead and cold.
I have many questions about this.
Is it even physically possible to have sex on a moving motorbike? Whose idea was it? Are they actually, er, doing it?
I mean, sex is great on its own. Riding a motorbike is also a lot of fun. But there's no way in hell bringing the two things together is a good idea.
Other than being ridiculously badass, it's also immensely dangerous, and there isn't a helmet in sight in the video.
Police are apparently attempting to track down the man and woman, who could face a fine of 3 million Paraguayan Guarani (about $540) if they are caught.
The punishment could be even steeper for the man if there is evidence he had been drinking before jumping on board.