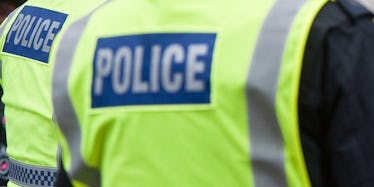 Cops Fired For Mocking Victim's Horrific Rape: 'I Would Have Done It This Way'
Rex/Shutterstock
Four police officers have been fired for mocking a young woman who reported she had been anally raped.
The officers accidentally called the woman, and without realizing she was listening, one read out her statement to police while the others laughed, made obscene comments and questioned her account.
Among the disgusting remarks include officers saying, "I would have done it this way" and "He proper stuck it up her arse," according to the victim.
Her account included anal rape and a man urinating on her.
The nine-minute call left the victim "crying and shaking," she said, and lead to the firing of four officers from Bedfordshire Police in the UK.
A two-day misconduct hearing found police constables Robin Denton, Matthew Neild, Todd Mills and Deanna Waite "discussed a sensitive allegation," breaching professional standards. Police constable Neild was also found to have breached confidentiality standards.
The hearing heard the four officers were not directly involved in the investigation into the alleged rape, and the allegation had been made to Northamptonshire Police.
A transcript of the comments was presented to the hearing alongside a statement from the victim, which read,
Those nine minutes were torture for me. I could not stop crying and shaking. I will never trust the police and I will never, ever forgive. My trust in the police is completely diminished. I feel broken and helpless and all because of the police — the people I hoped would help me find justice. What I heard was truly disgusting, disrespectful and immoral. They were joking about my statement and making comments about "I would have done it this way," "He proper stuck it up her arse" and "When I f**k a girl...".
She said the worst remarks she heard were victim-blaming comments such as "If she really don't want it, she would leave" and "If I was getting raped, I wouldn't have stuck his dick in my mouth half-heartedly."
Noting that further details about the incident were restricted by ongoing legal proceedings, chief constable Jon Boutcher said,
As soon as I was made aware of this case, I immediately suspended the officers and visited the victim, with Assistant Chief Constable Jackie Sebire. I have apologized to this remarkable and brave young lady and have continued to support her throughout the investigation. I would like to extend my apologies to her again for the anguish and distress this has caused.
Citations: Four police officers who laughed at a rape victim have been sacked (Metro)