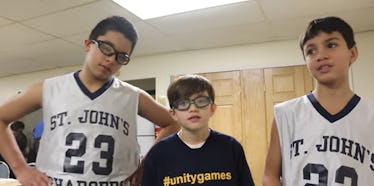 Boys Chant 'Unity,' Refuse To Play Basketball After Girls Kicked Off Youth Team
YouTube
A coed basketball team in New Jersey forfeited a season rather than be split up on the basis of gender.
The St. John's basketball team has been playing together for four years in the Catholic Youth Organization in Clark, New Jersey. The nine boys and two girls are now in fifth grade.
After getting through part of the season, they were stopped and told that the girls had been playing on the team "illegally," NJ.com reported.
They were supposed to be playing against the St. Bartholomew the Apostle team in Scotch Plains. However, the referees refused to let them play an official game if the girls continued to play.
Rob Martel, St. John's coach, let the children make the decision about what to do. He said,
I said, 'No way. I'm not making this decision for 11 10-year-olds.'
So they put the decision to the team.
They were told if they kept the girls in, they would forfeit the game and not be able to make it to the playoffs.
Matthew Dohn, a parent, asked the team,
Is your decision to play the game without the two young ladies on the team, or do you want to stay as a team as you have all year?
He asked the children to raise their hands if they wanted to "play as a team" and give up the game in the standings.
All 11 players rose their hands.
Keisha Martel, assistant coach, told them,
But if the girls play, this will be the end of your season. You won't play in the playoffs.
To this, one boy said it "doesn't matter." The team started chanting "unity" as the parents in the bleachers cheered.
Denise Laskody, a parent, cried as she told NJ.com she was feeling "pure pride." She said,
These kids are doing the right thing. We don't have to tell them what to do. They just know. It's amazing.
The referees refused to do their jobs. The St. Bart's team left.
But the St. John's coed team persisted. That night, they played each other, wearing t-shirts reading "#unitygames." The game was refereed by two girls from other teams.
The Catholic league is facing coed challenges in New Jersey.
One seventh grader, Sydney Phillips, sued her school when they wouldn't let her play on the boys' team. She and her sister were expelled following suing, but an appeals court said they had to be let back in to the school.
Title IX says schools cannot get federal funding if they keep opportunities away from students on the basis of sex. This means public schools are generally not allowed to prevent girls from joining a sports team.
Cases such as this have played out across the country in recent years.
It remains unclear what will happen to the New Jersey league next year. So far, the archdiocese is refusing to bend for coed sports teams.
Citations: Coed CYO hoops team defies archdiocese order to kick girls out, forfeits season (NJ.COM)