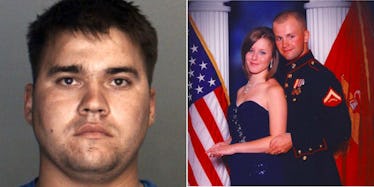 Ex-Marine Says He Killed Pregnant, Married GF Because She Molested His Daughter
San Bernardino Sheriff's Department/ Facebook
In today's news that'll make you scream "WTF," we have an ex-marine who's admitted to murdering the woman he was having an affair with by tossing her down a 140-foot mine shaft.
According to DailyMail.com, Christopher Lee, 27, and Erin Corwin, 19, had an affair while they were neighbors in California at the Marine Corps Air Ground Combat Center in 2014.
Both were married and living with their spouses. Lee and his wife also lived with their 6-year-old daughter, Liberty.
In June 2014, Erin went missing. Her body was later found at the bottom of a mine shaft in the desert near Joshua Tree National Park.
People grew suspicious and believed Lee murdered Corwin. But he denied all the allegations regarding her death that year.
Now, here's the plot twist: Two weeks before Corwin vanished, she discovered she was pregnant. Officials allegedly said Lee was the father of her unborn child.
UH OH. SOMEONE CALL JERRY SPRINGER.
Apparently, the guilt was too much for Lee to handle. He finally admitted to a California court on October 31 that he killed Erin Corwin by strangling her and throwing her headfirst down a mine shaft.
According to The Desert Sun, Lee allegedly told San Bernardino County Superior Court,
I'm no longer scared to tell the truth. People have to know what I did.
Apparently, he murdered Corwin for reasons other than her pregnancy.
Lee explained to the court on Monday that he killed the 19-year-old woman because she allegedly admitted to molesting his daughter.
When the duo met secretly outside of the mine in June 2014, Lee asked Corwin if she abused his child. She reportedly responded with, "Yes, but ..." and Lee lost control.
He told the court he garroted her from behind with a cord tied to two pieces of rebar, DailyMail.com reported. Then, he threw her body down the mine shaft.
Lee was charged with first-degree murder, along with a sentencing enhancement for lying in wait. All final closing arguments will be held on Wednesday.
Citations: DailyMail.com