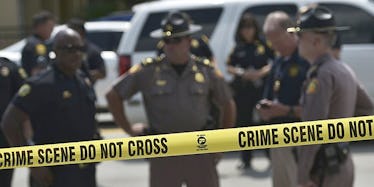 A Chicago Teen Was Found Dead In A Freezer And Her Mom Says Police Aren't Helping
MANDEL NGAN/AFP/Getty Images
On Friday, Sept. 8, 19-year-old Kenneka Jenkins went to a party at the Crowne Plaza hotel near Chicago's O'Hare International Airport, according to the Chicago Tribune. More than 24 hours after she disappeared, the Chicago teen was found dead inside an industrial freezer at the same venue. Now, in the aftermath of her child's death, Jenkins' mother has claimed that the police deserve some of the blame.
The mom, Teresa Martin, told reporters, per CBS Chicago,
To me, I feel like they helped kill my child: the police department and this hotel.
When reached by Elite Daily and asked for a response to Martin's assertion that police did not act swiftly in investigating Jenkins' disappearance, Rosemont Police Det. Joe Balogh said he had "no comment regarding that specific claim," before adding that police focused on discovering whether anyone who was with Jenkins was involved in her disappearance. Balogh said,
As far as anything that's put out there, we are working to discover who was involved in that room, who was involved in anything prior to the victim being discovered missing.
Elite Daily also reached out to IHG, the hotel group that owns Crowne Plaza, but did not hear back at time of publication.
UPDATE: An IHG spokesperson tells Elite Daily in a statement,
Our hearts go out to the family during this difficult time. It is our understanding that the hotel owner and its staff are fully cooperating with the local authorities in their investigation and have provided all the information they have requested. In light of the ongoing investigation and out of respect for the family's privacy, any questions should be directed to the Rosemont Police Department.
EARLIER: Martin says police told her that Jenkins, while drunk, had walked into the freezer and died there, the Chicago Tribune reports. Martin argued otherwise,
Those were double steel doors, she didn't just pop them open.
The mother also claimed to the Tribune that police had viewed hotel footage once before, at around 4 p.m. on Saturday, and said they did not see Jenkins captured by footage. Later, Jenkins said, police would review surveillance again, and say that Jenkins was seen stumbling near the front desk.
Martin's claim that police and the Crowne Plaza hotel played a negative role in her daughter's death is just one of the many aspects of Jenkins' story that has created widespread interest, particularly on social media, where people have discussed the subject under the #KennekaJenkins hashtag.
What Happened To Kenneka Jenkins?
Kenneka Jenkins left her home on the West Side of Chicago at around 11:30 p.m. on Friday for a party at the Crowne Plaza hotel, her sister told police, according to Chicago's WLS-TV. Jenkins' mother told the Tribune that her daughter claimed to have been "going to the show and bowling." The sister said she spoke to Jenkins via text hours later, at about 1:30 a.m. on Saturday.
At around 4:30 a.m. on Saturday, Jenkins' friends reached out to her mother and said they couldn't find the 19-year-old. The friends also had Jenkins' phone and truck keys, according to CBS Chicago.
Martin told reporters that she immediately went to the Crowne Plaza hotel, asking staff to review security footage in order to help search for Jenkins. Martin says the hotel referred her to the police instead. The police, in turn, asked Martin to wait a few more hours in order to see if Jenkins would turn up first, Martin claims.
Martin said,
We were begging for help, and no one was helping.
Authorities notified Crowne Plaza about Jenkins' disappearance at around 1:15 p.m. the same day, the Chicago Tribune reports. After an 11-hour search, hotel staff found Jenkins' body in the freezer at around 12:30 a.m. on Sunday.
She was pronounced dead at the scene shortly after.
Much of the discussion on social media surrounding the subject of Jenkins disappearance has been sparked by a Facebook Live video that appears to show Jenkins in a hotel room with a number of individuals, according to the Washington Post.
The video has led to speculation that those seen in the video were involved in Jenkins' disappearance, and the clip has now become the subject of the police's investigation into the 19-year-old's fate. Authorities have identified most people in the video, Rosemont spokesman Gary Mack told the Chicago Tribune. No charges have been made.
Andrew Holmes, who is identified by the Chicago Sun Times as a community activist, told the paper that Jenkins' mom wants to hear more from those who were with the daughter on Friday night.
Holmes said,
She wants all of those people that were inside that room to come forward and talk to detectives and clear their name. Someone in that room knew what happened.
Results of Jenkins' autopsy are expected to be released on Wednesday.