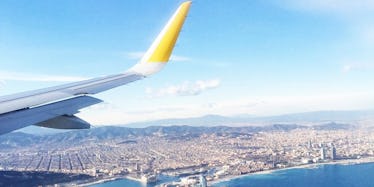 Cheapest Day To Fly In Summer Is Sooner Than You Think, So Book That Vacay ASAP
Vacations are the best time of the year — but why do they have to be so frustratingly expensive?
Pretty much all of us would love to disappear for a few days a lot more often than we can afford to, but there are ways you can beat the system to get the best possible deal.
Specifically, you can book a flight on the cheapest day of summer for air travel.
You'd better get planning that dream vacay, though, because it's coming up sooner than you might think.
According to CheapAir.com, the cheapest day for flying in the summer is Tuesday, June 6.
That's fewer than 11 WEEKS away, not that I'm counting or anything.
CheapAir CEO Jeff Klee told Condé Nast Traveler,
The data clearly shows the best value for summer travel can be found the first half of June.
June is cheaper for flights than July and August, and for some reason, Tuesdays are the best value day, making Tuesday, June 6 a bargain hunter's dream.
On the other hand, July is where airfares peak. But if you're desperate to travel in July, the cheapest day is Tuesday, July 4, followed by July 3 and 5.
Tuesdays are also the best days to fly in August and September, with the cheapest days being the 22 and 12, respectively.
Klee said,
Summer 2017 is shaping up to be slightly less expensive on average than what we saw in airfare pricing last year at this time. If your heart is set on weekend flights, look later in the summer when some destinations are still showing low airfares.
June is the best value month, but August and September are still about 7 percent cheaper than July, so make sure you plan accordingly.
Klee also said flights on Saturdays tend to be more expensive than Sunday, for those who need to fly on the weekend.
Citations: Condé Nast Traveler