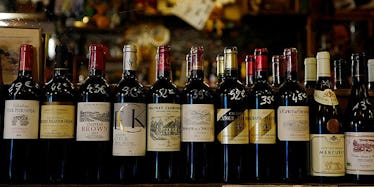 This Is The Cheapest Day Of The Week To Stock Up On Wine, According To Study
REUTERS
Wine can get very, very expensive, especially at the height of its quality.
Consider this: William Koch, one of the billionaire Koch brothers, sold over 20,000 bottles from his cellar over three days and yielded $21.9 million. That's a lot of money.
And while everyone isn't out here trying to buy bottles from a mega-rich businessman, Koch's story is one of the many of examples of the value of wine all across the board.
That said, we know there is no shortage of people who wouldn't mind getting it at a bit of cheaper price.
So, when's the best to buy wine at a greater value? One shopping app claims it has the answer. According to a study released by Ibotta, Mondays and Tuesdays present the best opportunity during the week to stock up on that vino.
And how solid is the research that led to this conclusion, you ask? The company's findings are apparently based on 50 million receipts that were collected during a period of three years.
So, by all means, feel free to get over your case of the Mondays with a cheaper-than-usual bottle, because we all know how much a good glass can change your mood.
Citations: What's The Cheapest Day Of The Week To Buy Wine? (Refinery 29)