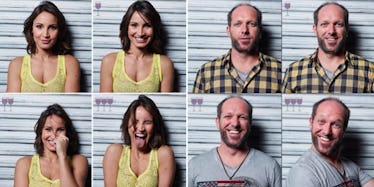 Amazing Photo Series Shows How Much People Change After 3 Glasses Of Wine
After I get home from the office, the first thing I usually do is pour myself a glass of wine.
If you ask me, there's no better way to let loose and unwind from a stressful day at work than with a glass of vino... or three. Dont believe me? Just ask Brazilian photographer Marcos Alberti.
For his latest project, "3 Glasses Later," Alberti set out to create a fun photo series capturing how drinking several glasses of wine affects people.
Alberti explained,
There is a saying about wine that I really like and it's something like this 'The first glass of wine is all about the food, the second glass is about love and the third glass is about mayhem.' I really wanted to see it for myself if that affirmation was in fact true.
Alberti took the first images right after his subjects arrived at the studio. Then, he continued to photograph their changes in appearance after finishing one, two and finally three glasses of wine.
As you can imagine, people tend to get pretty giddy once they've knocked back half the bottle.
Alberti's intriguing visual series does a great job at revealing why being wine wasted is the best type of drunk because, let's be real, photos never lie.
Take a look at the pictures below to see Alberti's intoxicating photo series and check out some of his other projects on Instagram.
Have you ever wondered what a few glasses of wine really do to you?
Well, thanks to one curious photographer from Brazil, we now have the answer.
For his latest artistic endeavors, Marcos Alberti set out to capture the effects of drinking wine...
...by photographing all sorts of people after they finished one, two and three glasses.
Alberti said, "The first picture was taken right away when our guests have just arrived at the studio..."
"...in order to capture the stress and the fatigue after a full day after working all day long and from also facing rush hour traffic to get here."
It's not hard to see after that first glass...
...people really start to unwind.
After finishing the second glass, the smiles start to come out...
And by the third successive glass of wine...
People really seem to let loose...
...and let their tipsy personalities shine.
At the end of the day, this feel-good project did more than show the world what it looks like to be wine wasted.
Alberti wrote on his website, "People from all walks of life, music, art, fashion, dance, architecture, advertising got together for a couple of nights."
He continued, "By the end of the third glass, several smiles emerged and many stories were told. "
Citations: How People Look After 1, 2, and 3 Glasses Of Wine (Bored Panda)