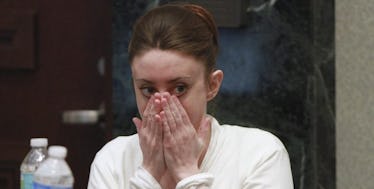 Casey Anthony Says Murdered Child Caylee Would Be 'A Total Badass' If Alive
REUTERS
Casey Anthony spoke out for the first time about the murder trial she faced over her daughter Caylee's death.
Caylee Anthony was just 2 years old when she died in 2008. Casey and Caylee were living in Orlando, Florida, when Casey's mother, Cindy, called the police to report Caylee missing.
Speaking to the Associated Press years after the trial, Casey said,
I'm still not even certain as I stand here today about what happened.
When the police were called, Casey said it had been a month since she saw Caylee. Cindy said Casey's car smelled like a corpse had been in it.
Remains determined to be Caylee's were found in the woods near their house. It was testified that air samples from Casey's car indicated the presence of human remains.
Casey Anthony went to trial for first-degree murder of her daughter. She pleaded not guilty.
The defense argued that Caylee accidentally drowned and that Casey's father, George, covered up her death to protect Casey. Anthony told the AP,
Everyone has their theories, I don't know. As I stand here today I can't tell you one way or another. The last time I saw my daughter I believed she was alive and was going to be OK, and that's what was told to me.
The 2011 trial was widely watched by an American public mostly hoping for Anthony to be found guilty and possibly face the death penalty.
Anthony told the AP,
Based off what was in the media, I understand the reasons people feel about me. I understand why people have the opinions that they do.
Ultimately, Anthony was found not guilty of the murder, although she was found guilty of lying to law enforcement. She was sentenced to one year in jail.
Anthony says she did lie to the police, but gave excuses to the AP. She said,
Even if I would've told them everything that I told to the psychologist, I hate to say this but I firmly believe I would have been in the same place. Because cops believe other cops. Cops tend to victimize the victims. I understand now ... I see why I was treated the way I was even had I been completely truthful.
She went on to say,
Cops lie to people every day. I'm just one of the unfortunate idiots who admitted they lied. My dad was a cop, you can read into that what you want to.
During the trial, Anthony's attorney suggested that her father had sexually abused her. Her father denies this.
Anthony told the AP she felt like Alice in Wonderland facing the Red Queen, where the Red Queen declares "sentence first, verdict afterward." She said,
I sense and feel to this day that is a direct parallel to what I lived. My sentence was doled out long before there was a verdict. Sentence first, verdict afterward. People found me guilty long before I had my day in court.
Now, Anthony said,
Caylee would be 12 right now. And would be a total badass. I'd like to think she'd be listening to classic rock, playing sports.
As for Anthony herself, she is living in South Florida at the home of Patrick McKenna, who served on her defense team. She works on some of his cases, helping with social media searches. About that work, she said,
I love the fact that I have a unique perspective and I get a chance to do for other people what so many others have done for me.
She still misses her daughter, she told the AP, and her bedroom is filled with photos of her.
Otherwise, Anthony said she is doing OK. She goes out with friends and men buy her drinks. She likes taking photos of squirrels. She's planning to go skydiving for her 31st birthday.
But sometimes when she goes out, people realize who she is, and the whispers start. Still, she said,
I don't give a shit about what anyone thinks about me, I never will. I'm OK with myself, I sleep pretty good at night.
The AP met her protesting against President Donald Trump at a rally in Florida. She had a series of on-the-record interviews with the reporter, but later asked the AP to not run the story because of a bankruptcy case.
Citations: AP EXCLUSIVE: FOR 1ST TIME, CASEY ANTHONY SPEAKS ABOUT CASE (Associated Press)