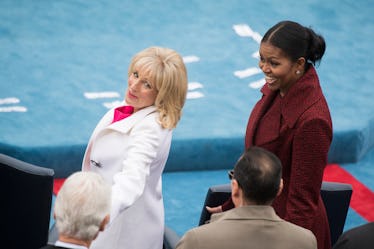 There's A Big Limit On How Influential First Ladies Are Allowed to Get
Here's what stands in the way.
Tom Williams/CQ-Roll Call, Inc./Getty Images
It's safe to say that over the years, the first lady's role in the White House has become iconic. But while the position isn't an elected or paid one, it nonetheless comes with a ton of responsibilities and expectations — and even an entire supporting office in the East Wing of the White House. So with all this responsibility, you may be asking: Since she's doing all this work, why can't the first lady just hold an official Cabinet position under the president? Here's what we know.
Although the president has power over who's appointed to their cabinet, there are limitations to that power. According to the 1967 Federal Anti-Nepotism statute, immediate family members of the president "may not be appointed, employed, promoted, or advanced" to certain positions in the government, including the presidential Cabinet. Known as the "Bobby Kennedy law," the statute was enacted after former President John F. Kennedy made his brother Robert F. Kennedy the U.S. Attorney General in 1961. So while the first lady may not be the president's blood relative — that'd be a more than a little weird if that was the case, but it's not like it hasn't happened before — their marriage makes them family by law. (The statue specifically mentions husbands and wives as counting as relatives.) This means that, as accomplished and deserving as a first lady may be, she cannot be appointed to an official cabinet position.
Although this law may seem like a bummer when it comes to brilliant first ladies like Michelle Obama and Jill Biden, it's definitely a good thing. It prevents individuals who may not be qualified for a position from being appointed to it because of favoritism. Besides, as first ladies have often acted as advisers and representatives to the president, there are plenty of other ways they've been able to influence political proceedings in the White House.
In fact, during Bill Clinton's presidency, Hillary Clinton became the first FLOTUS to establish her own office in the White House, and took a lead role in a task force to address legislation on health care reform. Michelle Obama launched programs and spearheaded legislation to improve child nutrition in schools, and now that Jill Biden is first lady, she's taken an active role in influencing legislation — namely in the American Families Plan, where she championed the idea of including at least four years of free education. While Biden's badass credentials — she holds a doctorate in education, as well as just being all-around impressive — led many people to suggest that her husband Joe might appoint her Secretary of Education, the president ultimately chose Miguel A. Cardona, who was sworn in in March 2021.
While the first lady can't be appointed to the president's cabinet, she doesn't really need to. Her power goes much, much further than that.