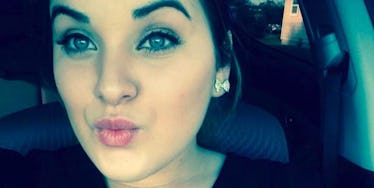 Bullies Make Fake FB Pages Mocking Teen Who Killed Herself In Front Of Family
Facebook
Brandy Vela shot herself in the chest in front of her family inside her bedroom in their Texas City home on November 29.
The 18-year-old was relentlessly tormented by cyberbullies online, which ultimately led to her tragic suicide.
It's been two weeks since Vela ended her life, but anonymous bullies are still mocking her on Facebook, according to DailyMail.com.
It's been reported a slew of fake Facebook profiles depicting Vela in offensive ways have appeared online, sending her grieving family through a whirlwind of painful emotions.
Apparently, one Facebook account that appeared after Vela shot herself shows the high school senior with guns.
The other one allegedly represents Vela -- who was often made fun of for her weight -- as a pig with Brandy's face on it.
Although both pages have been deleted, Vela's family is still looking for justice for their beloved daughter.
Her father, Raul Vela, allegedly spoke with KHOU about the bullies who are continuing to make light of Brandy's suicide. He said,
I thought all this was behind us but it's not over. I know what she was going through now. It's not that easy just to shut it off and let it go.
Before Brandy took her own life, she tried to seek help through her school officials.
Her 22-year-old sister, Jacqueline Vela, talked to Click 2 Houston about Brandy's plea for help before Thanksgiving break. Referring to Brandy, she said,
She did bring it to the school's attention before Thanksgiving break that she was getting harassing messages to her cellphone outside of school. Our deputy investigated it and the app that was being used to send the messages was untraceable.
Because the apps the bullies were using were proclaimed "untraceable" by authorities, Brandy's peers encouraged her to change her phone number, but that wasn't enough.
Before Brandy pulled the trigger to put herself out of the misery caused by cruel bullies online, she sent a text message to her family that sparked concern. It allegedly said,
I love you so much just remember that please and I'm so sorry for everything.
Her family members rushed home shortly after receiving news of the text and found Brandy against the wall in her bedroom with a gun pointed at herself.
They tried convincing her not to take action, but her mind was already set.
Speaking to HKOU, Brandy's grieving father said,
I want justice. And I will for years. We'll never stop.
Citations: DailyMail.com