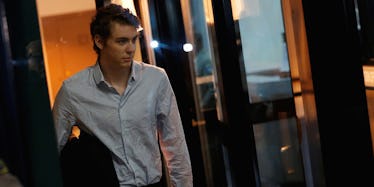 Here's How Brock Turner's Life Will Change After Registering As A Sex Offender
REUTERS
Convicted sexual assailant Brock Turner is back home in Ohio after serving about three months in jail in California.
Turner is staying at his family home in Ohio. He went to the sheriff's office on Tuesday morning to register as a sex offender.
And now that he is a registered sex offender, his life is going to be different in several ways. Here are few of them:
Turner will be registered as a sex offender for his whole life.
Unless he is able to successfully appeal the conviction, which he may try to do, he will remain on the registry for life.
His name is on the registry database, and he will have to tell any future employers about his status there.
Turner's living space will be monitored.
People living within 1,250 feet of Turner's home in Ohio will be told a sex offender lives nearby. They will receive postcards that include his address, photo and other information.
Turner cannot live within 1,000 feet of a school or playground, and he is not allowed to move without alerting the authorities. Officers will also go to his house every few months to make sure he's still living there.
Green County Sheriff Gene Fischer said,
We will pop in unannounced from time to time to make sure he's living where he says he's living.
Turner is also not allowed to leave the state without permission from authorities.
Turner is under probation for three years.
He has to attend a sex offender management program, which typically includes group counseling sessions discussing the culture and behavior that leads to sexual assault, according to CNN. He will also have to take polygraph tests.
Turner has to go through drug and alcohol counseling as part of his probation. This will include random testing.
He has to check in with his probation officer at least once a week, which can be done either in person or on the phone.
He will not be able to own a gun.
Under the terms of his sentencing, Turner is banned from owning a firearm or ammunition.
Turner has to keep authorities informed on what he's up to.
As a registered sex offender, Turner has to tell the authorities about where he's working, what car he's driving, his telephone number and his usernames and passwords for websites.
His jail time may have been unfairly short, but other consequences will still be long-lasting.
Thanks to the rules of the sex offender registry, Turner is not likely to forget what he did. This will affect his home, work and education for the rest of his life.
Even if he does attempt an appeal, that will take more time itself.
Citations: Daily Mail, CNN, Bustle, Stanford Daily, Dayton Daily News, KRON