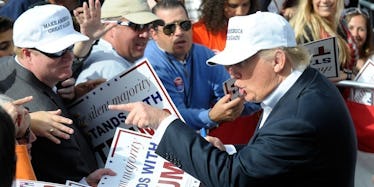 Black Students Say They Were Asked To Leave A Trump Rally On Campus
Getty Images
Dozens of black college students were reportedly removed from a Donald Trump rally before the event started.
According to USA TODAY, the 30 or so students were standing on the bleachers of the gymnasium at Georgia's Valdosta State University, awaiting Trump's arrival at Monday's rally.
Wearing all black, the students said they were being completely silent and had no plans to disrupt Trump's speech.
Student Tahjila Davis, 19, told The Des Moines Register what the group was reportedly told by security officials before being removed.
Davis said,
They said, 'This is Trump's property; it's a private event.'
Footage filmed by a Valdosta student appears to show the group being escorted out of the gym.
The students claimed Trump personally instructed US Secret Service agents to remove them, Huffington Post reports.
Student Brooke Gladney, 22, said,
The only reason we were given was that Mr. Trump did not want us there.
However, Trump spokeswoman Hope Hicks said,
There is no truth to [the students' claims] whatsoever... The campaign had no knowledge of this incident.
Secret Service spokesman Robert Hoback confirmed agents were at the event, but said they were only present to monitor from a distance.
He said when protesters are escorted out of rallies, it is done by campaign staff, the host committee or local law enforcement.
Another Secret Service agent told CNN the two latter organizations were responsible for the students' removal.
The removal came just hours after TIME magazine photographer Chris Morris was allegedly grabbed by his throat and slammed to the ground at a Trump rally in Virginia.
Morris told CNN a Secret Service agent assaulted him simply for trying to leave the designated media area.
A Secret Service spokesman said the agency is "aware of an incident involving an employee" and is currently looking into the situation.
Citations: Black Students Removed From Trump Rally In Georgia (Huffington Post), Black students ejected from Trump rally in Ga. (The Des Moines Register), Valdosta State University black students escorted out of Trump rally (CNN)