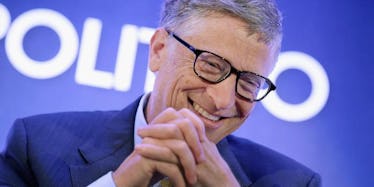 Bill Gates Will Donate $3M To AIDS Prevention If You Use Snapchat Today
Getty Images
The Bill & Melinda Gates Foundation will donate $3 every time someone uses the World AIDS Day geofilters on Snapchat on Tuesday.
The donations will go to (RED), a brand founded by Bobby Shriver and Bono that raises money for AIDS prevention and treatment. The group's goal is to help create an AIDS-free generation and it raised $325 million to that end.
There are three different geofilters available, and Snapchat is not charging (RED) to place them on the app today.
The Gates Foundation said it would stop donating after the geofilters are used one million times -- meaning there would be $3 million donated.
The Gates Foundation will also donate $3 every time someone regrams a music video clip on Instagram with Scarlett Johansson, Jimmy Kimmel and Barry Manilow, up to $1 million.
December 1 has been commemorated as World AIDS Day since 1988. It is meant to raise awareness of the disease, stigma and prevention.
Citations: Bill Gates' foundation to donate $3 million to (RED) if people use Snapchat on Tuesday (Los Angeles Times)