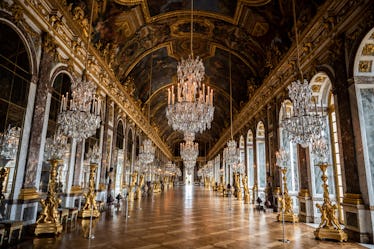 This Filter Has TikTokers Running The Halls Of Versailles In Some Hilarious Memes
"Me trying to find the exit at IKEA."
MARTIN BUREAU/AFP/Getty Images
Get ready for a virtual trip to the Palace of Versailles because TikTokers are creating hilarious memes with a trend inspired by the palace that was home to the French monarchy. Thanks to a filter that places your face on a woman running through Versailles, TikTokers have come up with creative reasons for dashing down winding corridors. If you want to have some laughs worthy of royalty, check out the 16 best Versailles Run TikTok filter memes that put so many twists on the scenario.
TikTok has its share of augmented reality (AR) filters go viral, but the Versailles Run TikTok filter is a bizarre take that TikTokers are taking full advantage of. If you're interested in why a cartoon woman dressed in Marie Antoinette-like garb would be running through the palace, you'll want to see some of the hilarious TikToks that bring the filter to life. Some include escaping awkward situations, like when a friend tells your crush you like them, while others are more literal, like a dog running for an open front door.
As of Tuesday, May 25, the Versailles Run TikTok filter has been used in over 580,000 videos. The trend appears to have started on May 19 when several users began making memes with the AR filter. If you want to get in on the fun, most of the videos use the track "Makeup Queen" by оригинальный звук, but you could technically use whatever you want.
You can use the filter yourself by heading to TikTok's camera and tapping "Effects" in the bottom-left corner. Versailles Run will appear under the "Trending" and "New" categories. As you get acquainted with the filter, check out the fire memes TikTokers have already made with it.
If you love the Versailles Run TikTok filter memes way too much, check out the Versailles Run filter trend for plenty of other vids to check out for a ~royal~ laugh.