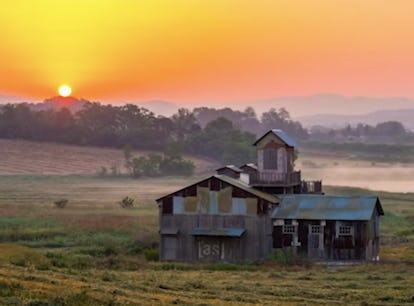 TikTokers Are Getting Creative AF With The Best Adult Swim Bump Parodies
Put these vids on TV already!
If you've come across some vids with a discreet "AS" symbol as you've been scrolling TikTok, then you probably know all about the Adult Swim bump trend making the rounds on the app. After all, people from across the country have been joining in on the trend, which has users paying tribute to Cartoon Network's Adult Swim with their own bumps. Even if you've never watched Adult Swim, you'll want to check out these 13 best "AS" Adult Swim bumps on TikTok that are creative and hilarious.
If you're wondering how the Adult Swim logo TikTok trend got started, it gets its inspiration from the Cartoon Network's Adult Swim OG bumps, which are basically mini commercials for the Adult Swim lineup. The bumps were typically in mundane settings with clever captions, and they were often used to get younger viewers to flip to another channel once Adult Swim was about to start (since it featured more NSFW content than other Cartoon Network shows).
TikToker @Vano 3000 put his own spin on the iconic skits by sharing his own Adult Swim bump of someone dressed up as Spider-Man on May 24, which revealed an Adult Swim logo at the end. For the video, he even created an original Adult Swim sound by sampling BADBADNOTGOOD's "Time Moves Slow," which other users have been using.
TikTokers have been sharing so many innovative bumps, with the Adult Swim or "AS" logo popping up everywhere from the thrift store to a baker's kitchen. To give you a preview of what's out there, check out these some of the best Adult Swim TikTok bumps.
The #adultswimbump tag on TikTok has 254.3 million views as of June 15, so there are plenty more videos you can check out for inspo or to just enjoy watching, because there are seriously so many cool ones out there.