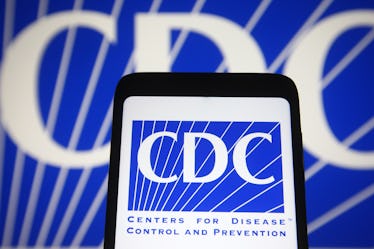 People Are Memeing The Heck Out Of The CDC's Move To Shorten Quarantine Times
The internet basically told the CDC, "Sure, Jan."
SOPA Images/LightRocket/Getty Images
People are dubious about a recent change in COVID-19 guidance from the U.S. Centers for Disease Control and Prevention (CDC). On Dec. 27, the CDC announced a shortened recommended isolation and quarantine period for people with COVID-19 as the Omicron variant surges. With rising case numbers across the country, many people didn't think it seemed like the best move to cut isolation time in half, from 10 days to five. In response to the new guidance about what the CDC says to do, here are the best "CDC says" memes riffing on all kinds of advice that'll have you scratching your head.
Based on the data, it's easy to see why people are confused about the new guidance: The nationwide positive case reports of COVID-19 in the United States hit a record seven-day average of more than 265,000 cases on Tuesday, Dec. 28, per Johns Hopkins University. (That's 13,000 more cases that the last daily high nearly a year ago on Jan. 11, 2021, according to NBC.)
Amid the rising case numbers, though, the CDC shortened the recommended isolation time for COVID-19 positive individuals from 10 days down to five, per the agency's Dec. 27 news release. If they're asymptomatic, the five-day isolation should be "followed by five days of wearing a mask when around others." In the release, the CDC linked the change to science that the transmission "occurs early in the course of illness, generally in the 1-2 days prior to onset of symptoms and the 2-3 days after."
In contrast, guidance from the World Health Organization (WHO) as of May 13, 2021, still recommends people who are positive for COVID-19 "remain in isolation for 10 days from the time you test positive." And if you have symptoms, WHO says to add three symptom-free days to the end of your isolation.
With the Omicron variant, rising numbers, and differing advice from the CDC and WHO, people have been left feeling confused about what to do if they test positive for COVID-19. (If you're not comfortable with the shortened isolation time, you can stick the WHO guidance.)
Dealing with it the only way Twitter knows how, people flooded the social media site with various "CDC says" memes. Check out some of the best ones that will have you laughing — and definitely doing the opposite of the advice...
Confusion aside, CDC Director Dr. Rochelle Walensky, laid out steps in the Dec. 27 statement to help prevent getting COVID-19, including to "get vaccinated, get boosted, wear a mask in public indoor settings ... and take a test before you gather."
You can also find full guidance on what to do if you are positive for COVID-19 on the WHO and CDC websites.