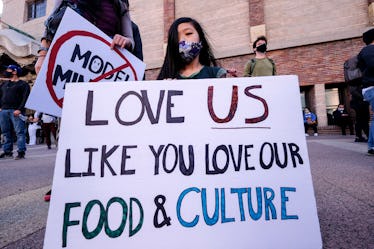 Follow These 8 Asian American & Pacific Islander Activists To Celebrate Their Work
These activists, speakers, educators, and artists will seriously brighten your feed.
RINGO CHIU/AFP/Getty Images
After more than a year of the stress and strain of a pandemic, everyone needs something happy in their timelines — and if you can learn something from it, so much the better! So, if you want to learn and cheer on some incredible Asian American and Pacific Islander (AAPI) activists working to change the United States on issues like labor rights, the arts, and anti-racism, you can go ahead and follow these accounts on Instagram.
According to the U.S. Census Bureau, as of 2019, an estimated 5.9% of the United States identifies as Asian American, while 0.2% are Native Hawaiian or Pacific Islander. While that doesn't sound huge, it works out to more than 19 million Asian American people in the United States and more than 600,000 Pacific Islanders. Of course, broad census labels don't do justice to the diversity of the Asian American experience — the term includes people with heritage from dozens of cultures and traditions, across a broad swath of the globe. All of whom are bringing their own unique perspectives to social change, as well as your Instagram feed.
It's all the more important to celebrate AAPI voices following a rise in anti-Asian racism during the COVID-19 pandemic in 2020 and 2021. Many of these activists and influencers are using their platforms to speak out against hate and elevate their communities as well as work on social issues that have affected the United States for years.
So, here are some of the best, most inspirational Asian American and Pacific Islander activists, speakers, educators, and artists who you can follow on Instagram. Because they're worth celebrating.