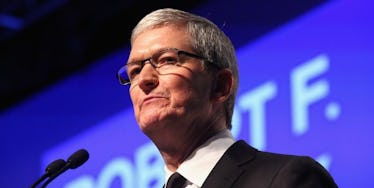 Apple Denied A Federal Order To Unlock The San Bernardino Shooter's iPhone
Getty Images
Apple reportedly refuses to comply with a court order to unlock an iPhone belonging to one of the San Bernardino shooters.
According to Yahoo! News, a Riverside, California federal magistrate signed an order on Tuesday asking Apple to build a new operating system so the FBI can access encrypted data on the iPhone 5c of Syed Farook.
Farook and his wife were shot dead by authorities after killing 14 people in San Bernardino, California on December 2.
The court order from the US attorney's office in Los Angeles states the iPhone contains "crucial evidence" such as who the shooters were in contact with and where they traveled just before the shooting.
Prosecutors argued Farook appears to have disabled his iCloud data feature to hide all traces of recent activity on the device, NBC News reports.
The attorney's office is, therefore, asking Apple to create an operating system to disable the iPhone feature that automatically erases data after a certain amount of failed passwords are entered.
Hours after the court order was issued, Apple CEO Tim Cook published a letter on Apple's website to declare the company opposes the demands due to the potential repercussions of the requested technology.
Should this new software fall into the wrong hands, Cook wrote, it could endanger the privacy of "tens of millions of American citizens."
The letter said,
We have great respect for the professionals at the FBI, and we believe their intentions are good. Up to this point, we have done everything that is both within our power and within the law to help them. But now the U.S. government has asked us for something we simply do not have, and something we consider too dangerous to create. They have asked us to build a backdoor to the iPhone.
Cook went on to claim there's "no way to guarantee" the government would only use the software just this once.
The government could also use the legislation cited in the court order to force tech companies to install surveillance software in devices, allowing all data to be intercepted, Cook added.
Cook wrote,
Once created, the technique could be used over and over again, on any number of devices. In the physical world, it would be the equivalent of a master key, capable of opening hundreds of millions of locks — from restaurants and banks to stores and homes. No reasonable person would find that acceptable.
Apple has five days to file an official response stating the court order could cause trouble or is unreasonably oppressive.
Citations: Apple vows to fight federal order to unlock San Bernardino shooters iPhone (Yahoo! News), Apple Fights Order to Unlock San Bernardino Shooters iPhone (NBC News)