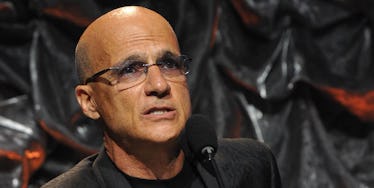 This Apple Exec Just Said Something Super Sexist About Women And Music
Getty Images
I'll be the first to admit I can't make a playlist of new music.
Where do I find it? How do I work a computer? Apps?
My strengths — crying about boys, sewing business blazers for boys, birthing righteous heirs for boys — help quell my insecurities over my tenuous grasp on music (is it somehow different from talking?), but I wish there was a way to enjoy the art I'll never understand.
Enter Apple Music executive Jimmy Iovine, a champion for confused ladies, aka all ladies, everywhere.
In an interview on "CBS This Morning" Thursday, Iovine claimed Apple Music, a streaming service now offered by the company behind iTunes, takes the struggle out of finding music for its female customers.
He said,
I always knew that women find it very difficult at times – some women – to find music... And this helps makes it easier with playlists, curated by real people.
Curated by real MEN, I hope!
Left to my own devices, I would probably end up paying $375 for Coachella tickets, only to end up standing in front of an active construction site, never knowing the difference.
But Mister Iovine is here to help.
An ad for Apple Music featuring Kerry Washington, Taraji P. Henson and Mary J. Blige is a sign this is a safe space for women who no longer live with their fathers.
The ad, directed by Ava DuVernay, might have been a powerful expression of female friendship, but Iovine's description of how he stumbled upon the concept for the commercial shifts that perspective.
He explained,
I just thought of a problem... Girls are sitting around talking about boys. Or complaining about boys, when they have their heart broken, or whatever… And they need music for that, right? So, it's hard to find the right music. Not everybody... knows a DJ.
What is a DJ? Can I find one on Apple Music? WiFi?
A couple of total Laurel Thatcher Ulrichs were not happy to receive Iovine's help and presumably asked men to teach them to Twitter so they could share their "opinions."
Relax, ladies. Jimmy Iovine wants to make our lives easier. Listen to the full interview to hear the sincere concern in his voice.
Citations: Apple Exec Under Fire for Saying Women Find It 'Difficult' to Discover New Music (TIME)