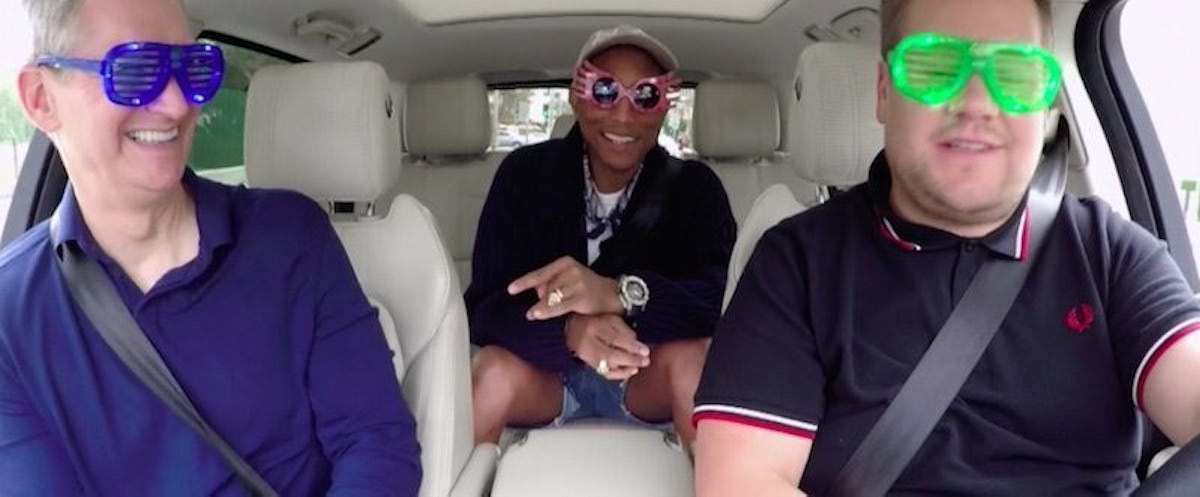 Apple CEO Tim Cook Is Hilariously Awkward On 'Carpool Karoake' With Pharrell
Apple
Apple CEO Tim Cook started off Wednesday's Apple Event, where he'll unveil the highly anticipated iPhone 7, by doing a little "Carpool Karaoke" with James Corden.
Michelle Obama made it so cool it seems everyone has to do it now.
It was so awkward, yet hilarious and awesome at the same time. Shoutout to Cook, who is apparently a big One Direction fan, for subjecting himself to this.
Corden is taking over the world, one "Carpool Karaoke" at a time. He's literally everywhere these days. But I'm not complaining, it's highly entertaining.
After the first musical number, Pharrell Williams joined Cook and Corden and the three sang a stellar rendition of "Sweet Home Alabama."
It was kind of like watching your nerdy dad on a road trip with celebrities.
It could've gone terribly wrong, but people definitely seemed to enjoy it.
After all, who doesn't like to sing in the car? Music makes the world go 'round.
And it's a well-known fact Pharrell improves basically any situation.
Thanks for the laughs, Apple. Much appreciated.