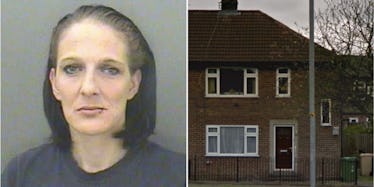 Guy Hid GF's Dead Body In Closet For A Year And Still Had Friends Over For Tea
Greater Manchester Police/Google
A man hid his girlfriend's dead body in a cupboard for more than a year — telling friends she wasn't around because the couple had broken up.
Andrew Reade acted normally throughout the 14-month period, during which he invited his neighbors over for dinner and to watch soccer on TV.
But none of them knew he was keeping a dark secret, and the body of Victoria Cherry was in his closet, the Manchester Evening News reported.
When neighbors asked him about the "dodgy smells" coming from his one-bedroom home in Bolton, England, Reade blamed it on the elderly woman who lived there before him.
Victoria, 44, had been missing since October 2015, but her body was found during a police raid in January this year.
Reade, 43, appeared at Bolton Crown Court where he pleaded guilty to concealing her body and was warned to expect a jail sentence.
The court heard police are still investigating how she died.
Judge Timothy Stead said,
The length of time for which this body appears to have rested in an airing cupboard will have made the pathological tests more difficult.
Reade will be held at Forest Bank Prison and will be analyzed by a psychiatrist before he is sentenced.
His old neighbors on Toronto Street spoke of their shock and described Victoria as "lovely."
Glen Kerwin, 54, Reade's next-door neighbor, would often watch soccer there, and said he questioned Reade about the smell, adding,
Dodgy smells started coming through but Andy explained it away. He told us it was from an older occupant that used to live there before him. We had no reason to doubt him. He said he'd gone back to her mum's. He kept up a good front. How did he manage to keep it under wraps for so long?
Another neighbor, Gary Sleeman, 37, revealed he slept in Reade's apartment, close to the closet where the dead body was being kept:
 I've slept right near the cupboard where she was. I can't explain it, there are so many feelings going on at once.