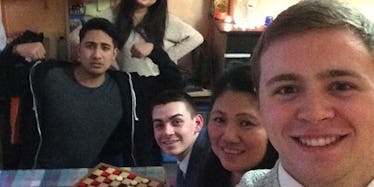 Teen Who Was Injured In Brussels Attacks Also Survived The Boston Bombings
An American teen injured in the Brussels attacks was also reportedly in Boston when it was targeted by terrorist actions.
Mason Wells (in the far right of the above photo) suffered burns and shrapnel injuries due to one of the two explosions that occurred at Brussels' Zaventem airport yesterday and killed over a dozen people, New York Daily News reports.
The 19-year-old from Utah was accompanying fellow Mormon missionaries Richard Norby, 66, and Joseph Empey, 20, as they took a French colleague to the busy airport.
Wells' colleagues were apparently injured by the suicide bombings orchestrated by the Islamic State as well, though it doesn't appear any of their injuries were life-threatening.
This was the third time Wells was in a country under attack by terrorists and his second time surviving a bombing.
According to The Guardian, the teen was at the Boston Marathon when two bombs exploded in 2013, and he lived in France when a series of attacks took 130 lives last November.
Wells was reportedly near the Boston Marathon finish line awaiting the arrival of his mother, Kymberly Wells, who participated in the race.
Bishop Scott Bond of the Church of Jesus Christ of Latter-day Saints in Sandy, Utah told New York Daily News Wells was "a block away" from the site of the explosions that killed three and injured over 260.
The explosions shook Wells' body, his mother said.
Wells was on a Mormon mission in France during the Paris attacks but stationed several hours away from the triple-massacre, New York Daily News reports.
His father, Chad Wells, told ABC News,
This is the third time that sadly in our society that we have a connection to a bomb blast. We live in a dangerous world and not everyone is kind and loving.
Kymberly Wells was worried about her son traveling after the Paris attacks, but the teenager assured her he could take care of himself, she said.
Bishop Bond suggested Wells' positive attitude is responsible for his lack of fear.
He said,
I think any of us would be seriously shaken, but I think he's someone who could handle this better than anybody. He's the kind of young man to somehow turn this into a positive. He's a terrific young man.
Lloyd Coleman, a friend of the Wells family, said the teen suffered burns to his hands, legs and face in the Brussels attacks.
Coleman reportedly told Utah's Deseret News,
Most of the damage is around his foot and ankle. A heel took the most damage, and the doctors are repairing it, but the family doesn't know how bad the injury is.
Chad Wells said his son is looking to join the US Naval Academy when he returns home.
Citations: Brussels explosions injured Mormon missionary also survived Boston attack (The Guardian), Mormon missionary injured in Brussels attack also stood near finish line during Boston Marathon bombing (New York Daily News)