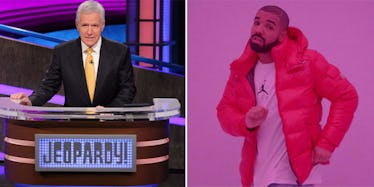 Alex Trebek Rapping Drake On 'Jeopardy!' Is The Most Lit The Show Will Ever Be
CBS Television Distribution /YouTube
I'm usually not one for game shows, but I'm REALLY disappointed I missed Wednesday's episode of "Jeopardy!"
The show's host, Alex Trebek, rapped a verse of Drake's "Jumpman" on the show, and shit got REAL.
Twitter user @SavingScarlett was lucky enough to catch the golden moment on video. The 76-year-old television personality flawlessly raps the verse in its entirety.
In a robotic tone, he reads,
This Canadian rapped, 'Jumpan, jumpman, them boys up to somethin', uh uh uh I think I need some Robitussin.'
And yes, he did pronounce each and every "uh" displayed on the screen.
Scarlett captioned the post, "Why is Jeopardy so lit rn?"
Damn, she's right. That was SO lit.
By the looks of things, Drake's got a new competitor on his hands... and his name is Alex Trebek.
Where's Rihanna? Maybe we can point her in Alex's direction if she's looking for a new bae.
Too soon? I'm sorry.
Let's get back to "Jeopardy!"
After Trebek's rapping debut, he asks the contestants who they think sang the song. The audience couldn't help but laugh at his attempt to sing it himself.
Among the hysterics, a player named George answers with "Who is Drake?" and wins the round.
Well done, George!
One YouTube user who goes by Consequence of Sound uploaded a video that reveals what Trebek says after the question is answered. When the audience's laughing subsides, Trebek shamefully admits he forgot one "jumpman" in the verse.
It's OK, Alex. We'll forgive you.
BTW, I had no idea so many people filmed "Jeopardy!" but I guess you learn something new every day.
All jokes aside, I think Drake would be proud of the host's attempt at rapping his song. Heck, he did it better than I would've ever done.
Then again, Drake might laugh hysterically... just like the audience did.
Look on the bright side, Alex: If you ever get bored of being a TV personality, you can always give the music business a try.
Maybe Drake would even be willing to give you some rapping pointers.