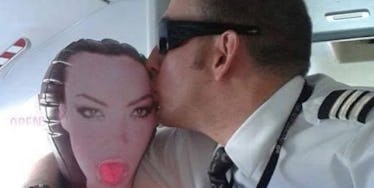 Airline Staff Suspended After Posting Snapchats With Blow-Up Sex Doll On Plane
Facebook
Two Air New Zealand staff members have been suspended after officials unearthed historical photos of a sex doll in the co-pilot's seat.
They also found a Snapchat video of an air hostess spitting out water as she walked along the cabin with the caption,
Wish I could spit on passengers like this.
The video and pictures are believed to be years old and uploaded to Facebook and Instagram at the time.
One member of staff involved has since left the company, but two others have been suspended pending an internal investigation.
A spokesperson for Air New Zealand said,
We believe the video was produced about four years ago and the photos were taken more than a year ago. One of the staff members concerned no longer works for Air New Zealand and the other two have been removed from duties pending the outcome of our investigation. It goes without saying that this is a situation we are treating with extreme seriousness - and our obvious concern is that the behavior displayed is a clear breach of not just our code of conduct but basic decency.
No word on what happened to the sex doll.
Citations: Daily Mail