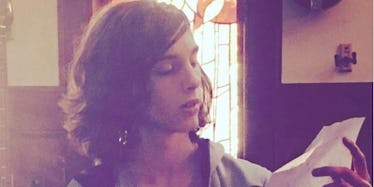 17-Year-Old Calmly Explains His Legs Got Cut Off By Train In Chilling 911 Call
Facebook
A harrowing recording of a teenager's desperate 911 call moments after he was hit by a train has been made public.
During the chilling conversation with the operator, 17-year-old Jacob Ohl explains he lost both legs in the horrendous accident in Lilburn, Georgia.
Despite being alone and in agony at the time, Ohl calmly called emergency services and explained what happened.
Ohl survived the crash but needed surgery to amputate both his legs at the knees.
The audio of the 911 call, obtained by AJC, shows how calm the teen was — likely as a result of shock — after the accident on Thursday at 1pm.
He can be heard telling the operator,
Um, I just got hit by a train.
The woman tells Ohl he sounds like he is ok, but he replies "no."
He later tells her the train hit him on the legs, explaining, "I think it cut them off."
Paramedics located Ohl by the side of train tracks and applied makeshift bandages to his legs to stop the bleeding.
He later told doctors and his family he had been walking along the train tracks with headphones on, and did not hear the train coming.
His family started a GoFundMe page to cover the cost of surgery, and more than $35,000 has been raised so far.
The description of the fundraiser reads,
Jacob has two brothers and an extended family that loves and admires him for his genuine, peaceful spirit, his old-soul wisdom and his compassion. Our family is reeling from this tragedy, but at the same time, we are so happy and feel so lucky that he is alive.
Writing on Facebook, his mom Fern said,
Like any of us would, he feels embarrassed that this happened. He says he heard/sensed the train behind him. He does not remember exactly if he jumped, fell or was knocked out of the way just in time. He is sure that the train never sounded its whistle.
Ohls is a senior at Brookwood High School, and had been accepted into college prior to the accident.
Citations: AJC