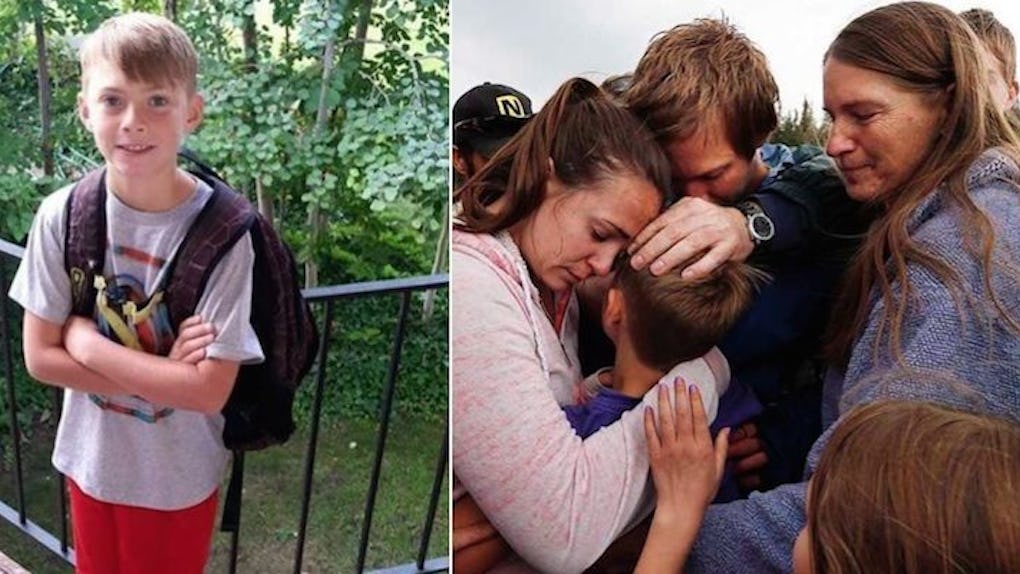 Facebook/Twitter
10-Year-Old Survives Almost 30 Hours In Wilderness After Getting Lost
A 10-year-old boy is alive and well after reportedly surviving the Utah wilderness for nearly 30 hours.
According to ABC News, Malachi Bradley got lost Sunday morning while on a hiking trip with his brother, sister, father and his father's friend in the Uinta Mountains.
They were fishing near Paul Lake at around 10:30 am local time, NBC News reports, when Bradley set out to find some mushrooms to eat with the fish he caught.
The boy was reportedly missing for about 30 minutes before Malachi's father called 911.
Temperatures reached the upper 30s that night, but rather than panic, Malachi began figuring out what he needed to do to stay alive, KSL reports.
His great aunt Lori Mathews told KSL Malachi learned plenty of survival tactics from his father. She said,
Just a week ago, he was camping, and he and a friend were playing 'What would we do if we got lost?'... They were doing all the things you'd want them to do if you were lost.
Malachi reportedly fished, sought shelter under a group of rocks and wrapped his t-shirt around his legs to keep warm.
When he was found, the 10-year-old reportedly said,
There's just a ton of giant rocks, so I hid between four of them so the wind wouldn't hit me too much… I had to keep switching positions because the wind kept switching.
A police helicopter found Malachi on Monday about five miles from where he first ran off alone, KSL reports. By about 3 pm that day, the family was reunited.
.@Utah_Newspapers Please attribute the great pics by @ravellray photos of boy who survived a night in the wilderness. pic.twitter.com/ln3fTystOV — Chuck Wing (@wingnutslc) August 25, 2015
Malachi was allegedly found hungry and exhausted, but other than that, Uintah County Sheriff's Office Cpl. Brian Fletcher told KSL he was actually in "good condition."
The search team consisted of more than 100 rescue workers, an airplane, a helicopter and members of the Ute Indian tribe, according to ABC News.
Located at an elevation of almost 10,000 feet, Paul Lake sits near the top of a mountain about 200 miles east of Salt Lake City.
Kevin Bardsley reportedly lost his son in the area in 2004, and the 12-year-old has never been found. ABC News reports Bardsley said searching for someone in the dense, forested terrain is like "finding a needle in a haystack."
Citations: 10 Year Old Malachi Bradley Found in Rugged Utah Wilderness (NBC News), 10 Year Old Boy Missing in Utah Forest Found Alive (ABC News), Lost 10-year-old didn't panic during 29-hour ordeal (KSL)