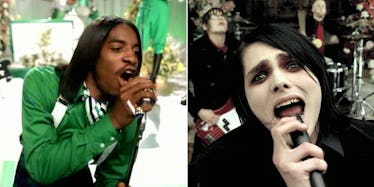 Your MySpace Page's Music Actually Perfectly Described You In The 2000s
YouTube
Whether you were in middle school, high school or not in school at all, you probably had a MySpace page. And believe it or not, your MySpace music said a lot more about you than even your Top 8 did.
Chances are, this particular song also coincided with your favorite ringtone at the time, and you likely tried to make it your personal anthem.
There was a multitude of bangers during the 2000s' MySpace era that truly described every emotion a teen was going through at the time. What better way for people to know it every time they visited your page?
Whether you went through an emo phase or were a total jock, were super popular or a complete herb, it was easy to place you in a stereotype by listening to your page's song.
Nobody can take your MySpace page song away from you.
"California" by Phantom Planet
Not only was "The OC" your favorite show on television, but you truly believed Seth Cohen was your soulmate.
"Feeling This" by Blink 182
You were feeling way too damn rebellious for your age, but now, you're old and it's quiet for you.
"Dilemma" by Nelly feat. Kelly Rowland
You were trippin' about the same girl throughout all of high school and somehow managed to stay in the friend zone. You're still sick over it.
"Hey Ya!" by Outkast
You still tell people to "shake it like a Polaroid picture."
"Last Resort" by Papa Roach
You had a therapist while your friends had tutors.
"Boulevard Of Broken Dreams" by Green Day
You were often found crying in the locker room during phys ed.
"Ocean Avenue" by Yellowcard
You've been in the same relationship for 10 years with the girl you met in 7th grade.
"Back That Azz Up" by Juvenile
You went to detention for slapping the fattest ass in school once (or twice).
"96 Quite Bitter Beings" by CKY
You played way too much Tony Hawk's Pro Skater as a child and had an entire tech deck skate park under your bed.
"Numb" by Linkin Park
You always got good grades in school, but you never got to party or have fun, so you're just a herb.
"MakeDamnSure" by Taking Back Sunday
Your hair hasn't been the same color since you were in the 9th grade.
"Foolish" by Ashanti
Your high school boyfriend cheated on you and you wanted him to know he lost a down-ass bitch and your "days are cool" without him.
"Turn Me On" by Kevin Lyttle
If you didn't have a baby in high school, you at least had a scare or two.
"Dance, Dance" by Fall Out Boy
You were actually a terrible dancer. But at least you could mosh!
"The Whisper Song" by The Ying Yang Twins
Your biggest concern was hitting the school dance and trying to grind up on anything.
"Perfect" by Simple Plan
You had a totally perfect childhood, yet you found a way to complain. Maybe your parents loved you a little too much growing up.
"This Is Why I'm Hot" by Mims
You had dreams of being a rap superstar one day, but only for the money and fame. Now, you work at Arby's.
"Intuition" by Jewel
Damn, girl, you so independent and sh*t.
"I Write Sins Not Tragedies" by Panic! At The Disco
You were predestined to become a hipster before you even knew what the word meant.
"21 Questions" by 50 Cent feat. Nate Dogg
You had 99 problems and they all related to the opposite sex.
"Helena" by My Chemical Romance
Your emo phase hit you harder than others, and the only way you could cope was by wearing eyeliner and crying about how much your parents didn't love you. Even though they did.
"Toxic" by Britney Spears
You peaked as the hot girl in high school. Then, you would go on to shave your head and have several children with multiple fathers.
"Such Great Heights" by The Postal Service
You always thought you were different until, years later, you realized you were exactly the same as everybody else.
"Stacy's Mom" by Fountains Of Wayne
Your best friend had a hot mom and you were (low key) trying to tell him something.