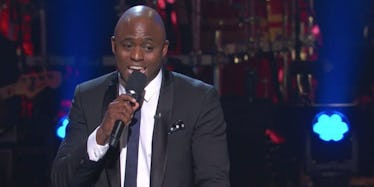 Wayne Brady, Kanye West And Usher Create Epic Freestyle On The Spot (Video)
The BET Honors awards show was held last month, but was just televised for the first time last night.
One of the more memorable moments of the show was when Wayne Brady, Usher and Kanye all contributed to an epic freestyle rap.
Brady hosted the awards show and wanted to try out a little rap experiment.
He laid down and looped a beat that he made with his mouth. He then had Kanye and Usher provide brief vocal samples, which were looped as well.
Next, he asked John W. Thompson, the Chairman of Microsoft, to give him a topic to rap about. Finally, Brady broke out into a freestyle about working a terrible job as a roofer.
The results were pretty magical and only confirm the notion that one should never underestimate Wayne Brady.