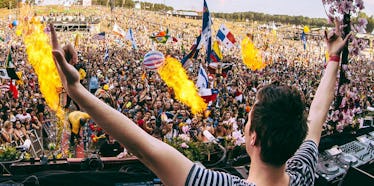 Good Times, Good Vibes: What The Media Failed To Cover At TomorrowWorld
Last month in Atlanta, many EDM worshippers were less than thrilled when unfortunate weather circumstances led TomorrowWorld to cancel its Sunday lineup.
With safety as its main priority, the festival opened exclusively for DreamVille Campers on the final day of the festival, in order to prevent transportation hazards and unsafe conditions in the perpetual downpour.
The LIV Skylofts fortunately were able to continue the party, despite TomorrowWorld canceling all shuttles to the festival.
Per usual, LIV was filled with not only headlining artists, but celebrities such as Ludacris, Drew Carey and NBA Legend Shaquille O'Neal.
Shaq, also known as, DJ Diesel dropped a special trap set this year.
Shaq not only manages to have the crowd cheering him on at basketball games, but it seems this is only the beginning for his DJ career.
Shaq, you crushed it.
Festivalgoers posted their frustrations left and right on social media, inherently clouding the incredible stories that emerged from this weekend-long event.
I'm writing this article to shed light on those whose lives were changed for the better after TomorrowWorld.
Love was in the air during Martin Garrix's closing set, and a couple even got engaged.
After the show, the fiancée tweeted a photo of her engagement ring at Martin, saying:
Got engaged during @MartinGarrix at @TomorrowWorld it's beautiful pic.twitter.com/9fmVFPhJTW — Miss Mabee Photo (@ILLIte) September 28, 2015
Martin replied with his best wishes for the couple, demonstrating just one of the many positive interactions during the festival.
Headliners Jamie Jones and Australian DJ and producer Thomas Jack joined forces to provide the best experience for those with Sunday access.
The two performed their sets from the Boat Stage, absolutely killing it by combining deep and tech house with tropical vibes.
The last-minute set changes ended up being a success.
EDM artists tour around the world year-round, but they make time to unite as a family for featured events like TomorrowWorld.
I have to say thank you to the artists who pulled through to deliver their sets to those who could make the Sunday show.
But, you should also keep in mind the artists who were unable to perform the sets they worked long and hard to perfect.
I'm sure they were just as upset as those who didn't get to see them live.
The Chainsmokers highlighted their new single, "Roses ft. Rozes," by giving out headbands decked out in @radandrefined merchandize during their set.
The crowd loved it and even released an epic aftermovie of the performance.
Alex Pall and Andrew Taggart, from the Chainsmokers left the festival with nothing but good memories.
TomorrowWorld was the first festival that ever put us on... it will always hold a special place in our hearts. But trying to be as unbiased as possible, its a festival that really goes out of its way to create a different reality for its people to step into and enjoy a weekend of great music, and that always creates an amazing vibe for us artists to play for! —Alex Pall
When the chaos arose, the Chainsmokers tweeted:
we r tryin to figure out something ourselves to give to every1 who missed out on day 3 with us — Dad Bod & chill (@TheChainsmokers) September 29, 2015
Tom Reed, Mayor of Chattahoochee Hills, stated the festival could return next year after changes are made to protect the residents of Georgia and the crowds safety.
TomorrowWorld understands the frustration, and officials are doing whatever they can to ensure your happiness.
Stay positive, EDM-ers.
TomorrowWorld might be preparing a comeback.
And remember, we are your friends.