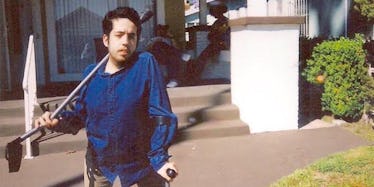 Meet Tommy2Stix, The 'Motivational Cripple' Who Raps And Goes To Law School
Obi O.
Tommy2Stix is so far from your average rapper, he could be your homie.
From his collection of self-produced music videos on YouTube to performing with Action Bronson in front of packed crowds, you'd never guess he's able to maintain his studies at law school all while smoking tons of dabs every day.
As the self-described "motivational cripple," Tommy is introducing the world to the "Cripple Flow," showing that people with disabilities can turn up too.
We sat down with Tommy and asked him exactly how he's able to manage such a crazy lifestyle, which he explains is something to help inspire and entertain.
I want to show people people with disabilities are just like everyone else — we have thoughts and ideas like everybody... My style is conscious, I'm aware, but I can't take myself too serious. I am disabled and I'm not exactly an imposing figure.
Tommy has never let his muscular dystrophy slow him down. But to him, none of this would even possible without the power of the ganja; it helped him come up with his rap name, which is now the heart of his whole movement.
He medicates daily, smoking at least an ounce every week, and that's actually what's helping him get out there every day to do his thing. It turns out that smoking weed, and especially dabbing, helps him get out there and crush sh*t.
One thing I really noticed is that I get more energetic when I smoke. I become more awake, and aware, and I get an energetic buzz -- not just a buzz, but a drive or a push. When I started to smoke I really began to focus on doing some physical activity, like yoga.  That's when I really started walking everywhere. If I fall, I just smoke more. It's like Popeye with the spinach.
Since Tommy was in college, he knew he wanted to get into law but didn't know exactly what he wanted to practice. Choosing to go to law school in a cannabis state not only made sense for his practices, but also for his music career, so he moved from Texas to California.
But the whole music thing didn't even cross is mind until a few years ago.
During his last week in college in DC back in 2012, Tommy sat in front of an Action Bronson show waving his crutch when Action grabbed it and waved it around during his performance.
Once Bronson realized he needed it, he pulled Tommy up on stage; the two sparked up individual joints, and then some magic happened.
Tommy recalls the epic moment that made him realize music, and performing, was something he could actually do.
He (Action) sees my head nodding to the beat and he passes me the mic and this is the first time that I even ever thought about rapping. I spit four bars and it went well. He let me chill on stage for the rest of the show and after that I was basically like, fuck, I need to start writing.
To set it all off, Action picked up Tommy at the end, raised him over his shoulders and performed with him on his back. This was the exact moment Tommy knew for sure he wanted to start rapping.
This eventually led to him performing at shows around the country and meeting some of the hottest rappers on the scene. The more he went on with his music, the more he began to realize this is what he wants to do.
Since then, Tommy has recorded some dope music and even dropped a mixtape called Prop. 2Stixteen. The mixtape cover is just as creative as the bars in his songs.
While there were only physical copies of the mixtape up until now, Tommy finally uploaded his five-track EP online and is ready to start releasing more projects this year while simultaneously working on getting his law degree.
Make no mistake: The degree still comes first on his list of priorities.
When it comes to his lifestyle choices, doing music and law at the same damn time, Tommy explained it pretty simply. Both give him the platform to do what he's capable of and that just so happens to be what he's best at.
You just need to be able to speak, be heard and people to fuck with you that's the reason I do law and music.
If everyone put their minds to what they do for a living and found ways to pursue their other passions, just maybe they'd be as awesome as Tommy. Maybe.