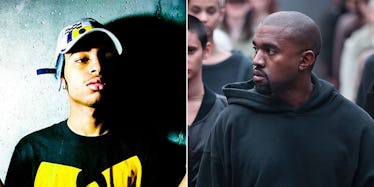 This Guy Got A Record Deal When His Song Came On After Kanye's On SoundCloud
SoundCloud / Getty Images
There's no formula to making it in the music industry.
Of course, it takes hours, days, months and years of hard work to hone your craft, but there's definitely a lot of luck involved, too.
Some may grind their whole lives to see limited results, while others get a record deal when their song comes on after Kanye's on SoundCloud.
That's exactly what happened to 18 year old rapper named Rory Fresco who's song "Lowkey" was the next track to play after Kanye West's "Real Friends."
The teenager from Kansas City has no idea why it happened, but after Kanye's song went up (which has since been taken down), his plays for the track shot up from 5,000 to 150,000 in just the first day.
Now, the track has nearly 2 million plays and he just recently signed a deal with Epic Records. He spoke t0 Pigeons and Planes via email to confirm the news and told them about his disbelief:
I have no idea how this happened. It was random. Had no idea it would grow to this. I got girls from middle school hitting me up lmao. I'm a huge fan of Kanye and also Cudi… I'm inspired. I just wanna show the world more of my creations from my bedroom in the basement.
Now that he has the platform, he might as well swing for the fences. But does this show us more about the power of the Internet or the power of the Kanye?
It sounds like he's already feeling himself on a Yeezy-type level, too:
The whole Soundcloud thing helped my record pop off, and they heard some other records. I decided to sign because I wanted to get to the next level. My plan was never to be an underground artist. I want to be the biggest in the world.
The song became so successful, Fresco even dropped a music video for it. It only has around 14,000 views, but if he can mess around with the YouTube algorithm and get it to play after some 'Ye, maybe it'll climb up.
Whatever the case may be, hopefully this kid can follow up with another great record. It sounds like he's ready.
anybody can write, produce, engineer. you just gotta work hard at it to get good. — Hollywood Rory. (@roryfresco) March 8, 2016