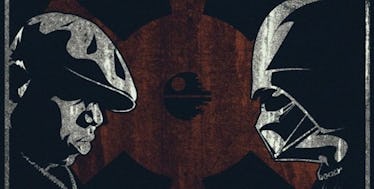 This 'Star Wars' And Biggie Smalls Mashup Is All You Need To Hear Today
All anyone can talk about this week is the newest "Star Wars" installation: "Star Wars: The Force Awakens." And now, the franchise has taken over the music industry, too.
Earlier this month, rapper Richie Branson and producer Solar Slim (known together as the Otaku Gang) collaborated on a sick, 17-track mashup mixtape of Biggie Smalls and "Star Wars."
The album, Life After Death Star, combines Biggie's hits with the iconic music from the "Star Wars" movies. "The Imperial March" serves as the backdrop for Biggie's "Dead Wrong," while a new song from "The Force Awakens" livens up "Party And Bullsh*t."
It's pretty freaking amazing, so check out the album below, and head to The Otaku Gang's site for more.
Citations: This Star Wars X Biggie Smalls Mashup Is The Only 2015 Album Worth Listening To (The Roosevelts)