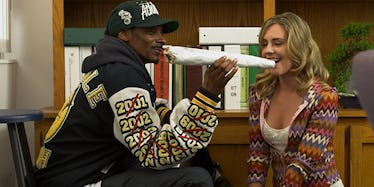 Stoner Anthems: These Are The 21 Greatest Songs Inspired By Weed
Mac And Devin Go To High School
Pretty much every song sounds like the greatest song ever when you're blazed.
With that said, there are a few standout classic stoner anthems that have definitely stood the test of time.
Stoners, as a people, are eclectic enough to appreciate all types of sh*t, plus they just know what puts them in the mood. They also know that good music isn't just one type or one sound.
When it comes to selecting the perfect smoking track, you need to have an open mind and a lit blunt. After smoking a bit you'll quickly see for yourself how marijuana has inspired some of the most fire tracks ever made.
From different eras and genres, the message is all clearly the same: smoke weed every day. These are the best songs ever made about weed.
Sublime - "Smoke Two Joints" (1992)
Nothing gets the reefer party going like some Sublime. Pretty much everything they put out was legendary during their epic run in the '90s.
"Smoke Two Joints" is a powerful song with an even more meaningful message: smoke once and after you smoke, smoke some more.
Bluntworthy Lyrics: I smoke two joints in time of peace // And two in time of war // I smoke two joints before I smoke two joints // And then I smoke two more.
Ludacris - "Blueberry Yum Yum" Feat. Sleepy Brown (2004)
Now that you bumped Sublime, it's time to throw on some Luda and get faded.
Before he was busy being in the movies and being a grown ass man, Ludacris was making party tracks that most of us were too young to get turnt to.
Bluntworthy Lyrics: Got a lil bit of Blueberry Yum Yum // and I neva would of thought that they could eva taste this goooooood // Thank God for the man who put it in my hoooooood // Its got me singin' melodies I neva thought I woooouuuuld.
Chico & Coolwadda - "High Come Down" Feat. Nate Dogg (2001)
After Luda you're probably feeling good.
That's when reality hits you and you realize you have work tomorrow. Nate Dogg's classic hook on this song will surely fit your mood whenever something (or someone) blows your high.
Bluntworthy Lyrics: Oooh, you make my High, come down // Oooh, you make my High Come down // You make my high Come All the way, down // Oooh, you make my High Come down.
Kid Cudi - "Marijuana" (2010)
OK, now it's time to roll up again.
Kid Cudi is one of the greatest weed rappers of our generation and his contributions to stoner anthems will be appreciated for years to come.
His classics like "Day N Nite," "Just What I Am" and "Hyyer" with King Chip are all classics.
However, when it comes to picking his absolute best, we're going to have to go with the track that gets straight to the point. This is one of the greatest odes to marijuana of all time.
Bluntworthy Lyrics: Pretty green bud // All in my blunt // Oohh I need it // We can take off now // Oohh Marijuana, yeah // Pretty green bud All in my blunt // Oohh I need it //We can take off now //Oohh I know you wanna Smoke.
Snoop Dogg & Wiz Khalifa - "That Good" (2011)
Every time Snoop and Wiz link up, you know you're getting a classic stoner anthem.
Their movie "Mac And Devin Go To High School" created an entire album of smoking tracks but "That Good" is the one that'll make you just keep burning.
Bluntworthy Lyrics: I'm smoking everywhere I go (No stick, no seeds, just Al Green) // I always gotta keep one rolled (I keep that, need that, got that) // I'm rolling every gram I own (that purp, that bomb, that kush) // don't gotta understand, they know I smoke that, fire that, good that good that.
DJ Quik - "Bombudd II" (1998)
DJ Quik switches it up on this reggae-inspired track and says some real sh*t.
Perfectly describing all the emotions you could possibly feel while smoking, he reminds us that weed is just medication to help us see more clearly. This track will help you get in touch with the spiritual side of your cannabis.
Bluntworthy Lyrics: Sometimes I smoke and I become aware // Sometimes I smoke and I don't even care // So this is for my homie Jake who rest in peace // He used to grow in all the multi colonies (right).
Collie Buddz - "Come Around" (2007)
There's nothing like a white dude singing reggae songs in a Jamaican accent, and Collie Buddz does it better than anyone else.
His soulful lyrics about getting weed by the pound, then smoking it, is enough inspiration for us to get through the day (just so we can go home and light one up).
Bluntworthy Lyrics: Finally the herbs come around // The high grade when me a look for // Me get it by the pound, yeah.
Luniz - "I Got 5 On It" (1995)
This became the theme song for anybody who's ever had five dollars on them, but the message of this track is perhaps the most crucial: motherf*ckers better pay up if they want to smoke.
Bluntworthy Lyrics: I got five on it // Grab your 40, let's get keyed // I got five on it Messing with that Indo weed // I got five on it // It's got me stuck and not go back // I got five on it // Partner lets go half on a sack.
Three 6 Mafia - "Where Is The Bud" (1996)
During their run in the '90s and early 2000s, Three 6 Mafia had some of the most important music in hip-hop.
Of course, "Stay High" is a classic but their song "Where Is The Bud" posed a pressing question that every stoner asks themselves every day.
Bluntworthy Lyrics: Where is the bud // Where is the bud // Where is the bud // We looking for the bud.
50 Cent - "High All The Time" (2003)
So apparently Fif doesn't really smoke at all, but that didn't stop him from penning one of the hottest smoking songs of all time.
"High All The Time" is a track we can all relate to for the most part, except for all of the shooting, stabbing and murder of course.
Bluntworthy Lyrics: I don't need Dom Perignon, I don't need Cris // Tanqueray and Alize, I don't need shit // N*gga, I'm high all the time, I smoke that good shit // I stay high all the time, man, I'm on some hood shit.
Cypress Hill - "Hits From The Bong" (1993)
We've all been through our bong-only phase so we all know how crucial this Cypress Hill pro-glass anthem is.
Just hearing that intro of someone taking a monster hit puts you in that mindset, so blast this sh*t and get baked.
Bluntworthy Lyrics: Pick it, pack it // Fire it up, come along // And take a hit from the bong // Put the blunt down just for a second // Don't get me wrong it's not a new method.
Rick James - "Mary Jane"
Although we remember him more these days for those hilarious "Chappelle's Show" skits, Rick James was making music that your parents were turning up to.
If you're still not sure if your parents blaze or not, turn on this song and see if they have any sort of emotional reaction to it. ANY. RIP to Rick James one time.
Bluntworthy Lyrics: I'm in love with Mary Jane // She's my main thing // She makes me feel alright // She makes my heart sing // And when I'm feeling low // She comes as no surprise// Turns me on with her love // Takes me to paradise.
Jon Lajoie - "High As F*ck (2009)
Sure, this might've been a parody song originally but it really became the guiding light for so many young tokers trying to figure out the answers to life.
The relatable lyrics and hilarious punch lines hits home for anyone who's ever been high as f*ck.
Bluntworthy Lyrics: You ever eat a whole bag of crackers that were so old That they weren't crispy anymore? // Have you ever been high... as f*ck?
Marlon Asher - "Ganja Farmer" (2006)
Let's take it straight to the roots of cannabis and give it up one time for all the ganja farmers.
It's a tough job that requires a lot of love, self-control and patience. It also requires miles of rolling papers, lighters for days and some iron lungs.
Bluntworthy Lyrics: Yes I'm a ganja planter // Call me da ganja farmer // Deep down inna di earth where me put di ganja//  Babylon come and light it up on fire.
Sean Paul - "We Be Burnin" (2005)
Remember when Sean Paul was poppin? Sh*t was definitely lit, but unfortunately all good things come to an end, and he is the case study.
Luckily, he left us countless songs that will remind us of a time when Jamaican dancehall was taking over the radiowaves and people were singing about legalizing weed without even realizing it.
Bluntworthy Lyrics: We be burnin' not concernin' what nobody wanna say // We be earnin' dollars turning 'cause we mind de pon we pay.
Wiz Khalifa - "Still Blazin" (2010)
During Wiz Khalifa's legendary summer back in 2010 when he dropped the mixtape Kush & OJ, people began to take notice of the Pittsburgh rapper.
But just like Cudi, Wiz has had so many classic smoking anthems that you can't choose just one. But I did, and it's appropriately called "Still Blazin." You'll see why.
Bluntworthy Lyrics: Why can't everyone just smoke like me? // Just gimme quiet place and lemme roll my weed // Where ain't nobody in my business don't nobody gotta know // Let all your conscious go and blow it by the O // I'm here but my minds gone.
Snoop Lion - "Lighters Up" Feat. Mavado and Popcaan (2013)
Back when Snoop went through his Rastafarian phase, he was actually putting out some dope music.
His collaboration with Mavado and Popcaan was a culmination of his marijuana-inspired self discovery, which he documented in the film "Reincarnated." It takes ganja music right back to its roots like it should be.
Bluntworthy Lyrics: High! Ain't no dividin us we choose the destiny // And we don't need no negative to get the best of me // Yeah! Love and unity alone can get to me // Or if a girl, need me.
Styles P - "Good Times" (2002)
This song was probably playing on every street corner in America in 2000.
The Freda Payne sample from her song "I Get High" served as the perfect stoner anthem as Styles P delivered some classic New York verses.
The track was also featured in "Soul Plane," AKA one of the greatest movies of all time.
Bluntworthy Lyrics: Ay yo, I smoke like a chiminey // Matter fact I smoke like a gun when a killa see his enemy // I smoke like Bob Marley did // After that, then I smoke like the hippies did, back in the seventies.
Afroman - "Because I Got High" (2000)
Afroman was one of the first artists to normalize stoner laziness within mainstream culture and we thank him for that.
Once again, anything relatable that speaks to other stoners is always going to be a hit but with a message this real, it could still played on repeat even 15 years later.
Bluntworthy Lyrics: I was gonna clean my room until I got high // I was gonna get up and find the broom but then I got high // My room is still messed up and I know why // 'Cause I got high.
Methodman and Redman - "How High" (2001)
It's hard to think of a greater stoner rap duo than Methodman and Redman, especially in the '90s. They would go on to drop one of the greatest weed movies of all time and cement their status in the space.
Bluntworthy Lyrics: Look up in the sky, it's a bird, it's a plane // It's the funk doctor spock smokin buddha on a train // HOW HIGH? So high that I can kiss the sky // HOW SICK? So sick that you can suck my d*ck.
Musical Youth - Pass The Dutchie (1982)
When in doubt, always throw on "Pass The Dutchie."
Whether you're at a baby shower, in line at the DMV or about to light something up, it's probably the most appropriate song to blast from your phone for every occasion.
If this doesn't make you feel like you're chilling on the beach with a joint in your hand, then you probably shouldn't have read this article.
Bluntworthy Lyrics: Pass the Dutchie 'pon the left hand side // Pass the Dutchie 'pon the left hand side // It a gonna burn, give me music make me jump and prance // It a go done, give me the music make me rock in the dance.